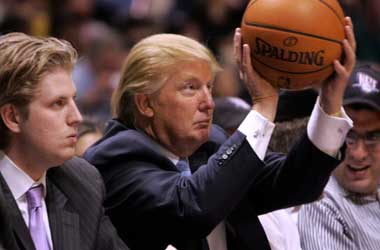 Now that Donald Trump has been elected as the next United States President it has buoyed hopes of sports betting getting legalized in the country. Sports betting has been banned in the United States since 1992.
A key executive of the American Gaming Association has said that lobbyists will be pushing for a legislation that will look to remove the ban placed on it.
A federal law called the Professional and Amateur Sports Protection Act (PASPA) bans betting on athletic competitions everywhere except four states namely Delaware, Nevada, Oregon and Montana. Looking for legal Sportbetting sites in the US have a look at our review here.
Sara Rayme, a senior vice president at American Gaming Association (AGA) said that with Trump coming to power there could be a fresh drive for legalizing sports betting nationwide. Pointing out that Trump had developed and been an operator of four casinos at one time, she said that he understands the gaming business.
According to the AGA, nearly $149 billion is sunk yearly into illegal sports betting in the country, which is a clear indicator that there is a strong market that could be very profitable for the country, should it be legalized.
Those in favor of legalizing sports betting have been trying overturn the ban but have been so far unsuccessful. For instance, New Jersey's attempts to do so have been blocked by the courts. The state had voted for allowing sports betting in 2011 and subsequently the state government introduced a bill in 2014 that tried to circumvent the PAPSA law.
However in a ruling made in September this year the Third Circuit court set aside the bill stating that racetracks and Atlantic City casinos cannot offer sports betting without violating federal law. Several states in favor of legalizing the activity such as West Virginia, and Mississippi have filed a brief with the Supreme Court this November urging it to take up the case.
Trump has expressed his support for legalizing sports betting in an interview last year stating that he was OK with it and understood that it was prevalent in the country despite being banned. The Daily Fantasy Sports (DFS) industry has also been a target of state attorneys during the last 18 months and DraftKings and FanDuel, the two biggest DFS operators have suffered the most.
The two companies recently announced that they were planning a possible merger scheduled to take place before the end of 2017. In a statement, Rayme said,
DraftKings and FanDuel have sped up the debate on legalizing sports betting by demonstrating its popularity and mainstream nature. We're building on the momentum created by DFS to remove the federal ban on sports betting.