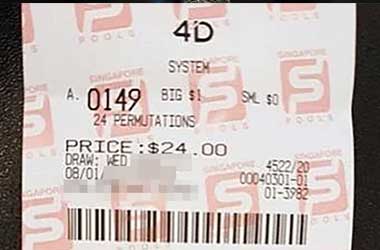 Summary
A Singaporean woman requested her friend to purchase the lottery ticket on her behalf
Upon learning that the ticket won, her friend vanished and did not give her the ticket
The woman sought help from the police and the Singapore Pools, but to no avail
Be careful who you trust – that's probably the most important lesson learnt by a woman in Singapore after a colleague ran away with an RM640,000 lottery prize that's supposed to be hers.
The culprit, whom the woman considered her friend, could no longer be contacted. Worse, authorities couldn't help the victim recover her money.
Friend Refuses to Hand Over Winning Ticket to Owner
In a Facebook post, the woman shared that she asked her friend to buy lottery numbers on her behalf during the Chinese New Year, an occasion when a lot of people try their luck at the lottery.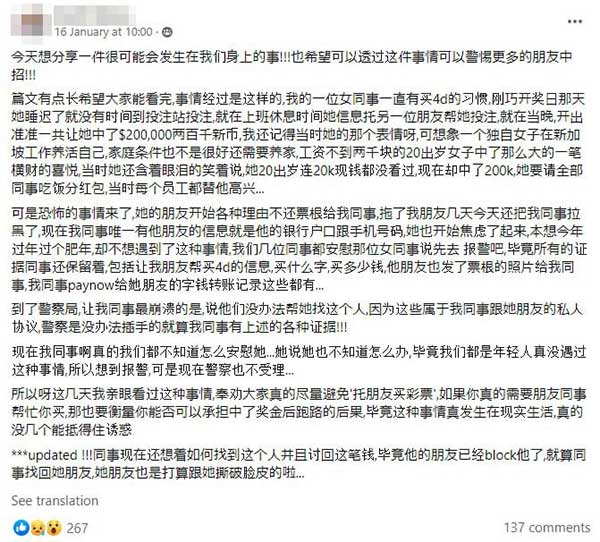 It's not unusual to request a friend or a family member to purchase lottery tickets especially if you are unable to buy the tickets on your own for some reason. However, you need to be sure they're trustworthy enough because if the ticket wins, they can falsely present themselves as the owner of the winning numbers and claim the prize. That's exactly what happened to the Singaporean woman.
After learning that her ticket won a huge RM649,440 ($200,000) cash prize, the woman had some great plans – she'd treat her co-workers and friends to dinner and share a portion of her winnings with them. But that never happened because the colleague she had entrusted to buy the ticket on her behalf did not return it to her. The colleague went as far as blocking the woman from social media and any communication.
Singapore Pools Unable To Assist
Frustrated that her friend could no longer be reached after the lottery win, the woman sought help from the police, submitting evidence that the winning ticket was hers. But the police couldn't help.
She also reached out to the Singapore Pools but officials at the state-owned lottery company told her they couldn't do anything about it, as per their rules, the buyer and holder of the ticket will receive the prize.
Under our Game Rules, we have to honour prize payment to whoever presents a valid winning ticket. Hence, we cannot withhold prize payment as and when someone furnishes us with a police report on the purported loss or theft of his/her tickets.
After failing to get help from the police and the Singapore Pools, the woman is now considering getting the assistance of a debt collector to retrieve her winnings.