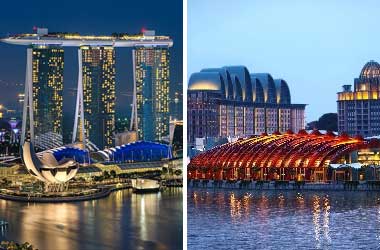 Resorts World Sentosa and Marina Bay Sands are the only two casinos in Singapore and run a thriving operation.
The two Singapore-based casinos just got hit by record fines for the April 2018-March 2019 financial year. There was a collective amount of S$746,700 in fines levied by the gaming regulator.
That is the highest fine imposed in the last five years and a big jump from the previous year's S$60,000 in penalties.
The majority of fines come from the penalties imposed on Resorts World Sentosa. The property functions as both a hotel and casino and is operated by the Genting Group.
The operator was hit with heavy fines due to multiple violations of Singapore's strict casino regulations.
The Singaporean Casino Regulatory Authority revealed that Resorts World Sentosa was fined three times in the year and the total amount of payments was S$730,000.
The first fine was for S$400,000 because of the lack of certain internal controls. The second penalty was for S$250,000 because the casino failed to comply with the regulator's instructions on how to conduct and supervise casino operations. The third fine was for S$80,000 as the casino allowed underage individuals access to the gaming floor.
Marina Bay Sands were fined twice for the fiscal but the fines were high due to the operators previous history. One fine was an S$10,000 penalty for failure to prevent an underage individual from accessing the casino floor while the second fine was for S$5,000 and was levied because a permanent resident managed to get onto the gaming floor without paying the required entry fee.
Major Expansion Mode
Despite these penalties, the government of Singapore is still giving these two casinos exclusivity up to 2030. Both casino resorts are currently in major expansion mode as they invest billions to make their properties even more attractive and bring in more international visitors.
The two casinos which opened their doors back in 2010 will be spending a combined S$4.5 billion in expansion plans which will make them two of the largest integrated resorts in the world.
Marina Bay Sands will be adding a fourth hotel tower which will feature 1,000 hotel suites while Resorts World Sentosa will expand their ground area and increase it by 50 percent, giving it an additional 164,000 square meters to put in new attractions and offerings. One of these attractions will be a Super Nintendo World immersive theme park.