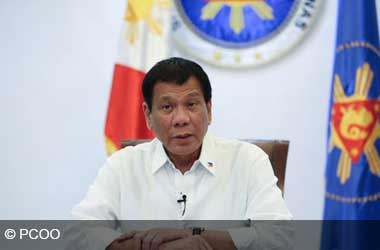 Philippine President Rodrigo Duterte has ordered the indefinite shutdown of gaming activities operated, licensed and franchised by the government's sweepstakes agency, including the national lotteries. The president directed law enforcement to immediately shutter all lotto and gambling outlets operated by the Philippine Charity Sweepstakes Office (PCSO) from July 27.
President Duterte has yet to elaborate on the corruption claims that had led to his decision to temporarily close the lotteries, but has said an inquiry is set to follow suit. The massive shakeup comes just months after the president sacked former PCSO General Manager Alexander Balutan, a retired Marine general, due to serious allegations of corruption.
In his statement, Duterte said even the courts won't be able stop his decisive order to halt the lottery agency's operations – noting that recurring court injunctions on the issue in the past have marred and incapacitated the government's efforts to rid the PCSO of malpractice.
Without expounding further, the president cited in his televised speech widespread cheating and the prevalence of contracts reportedly crafted to favour corrupt private corporations and individuals. Over the weekend, the national police and military began scrambling to padlock lottery outlets nationwide, also putting up large "Closed" notices.
The move has garnered criticism from the opposition party with a handful of legislators slamming the abrupt decision, as well as law enforcement's heavy-handed efforts to bolt the now non-operational outlets.
Notably, Senator Nancy Binay hit the national police's shuttering efforts as a waste of time, while Senator Panfilo Lacson noted that the lotto should have been given an exception on the suspension, with fears that its absence will mark the resurgence of illegal "jueteng" gambling.
PCSO General Manager Vows Cooperation
In the Philippines, "jueteng" has become largely linked with corruption and bribery in public offices. PCSO General Manager Royina Garma expressed that her agency will fully comply with Duterte's orders. However, Garma said that she'll appeal to the president to allow the resumption of lottery operations.
Generating huge revenues, PCSO's lottery proceeds typically go into charity and public health programs. The widely-popular "lotto" games are known to generate long queues of people when the jackpots hit the Php100-million mark. In October 2018, the Ultra Lotto 6/58 jackpot prize reached a record-breaking Php1.18-billion (around $35,000,000). The jackpot was eventually won by two unnamed gamblers who split the prize.