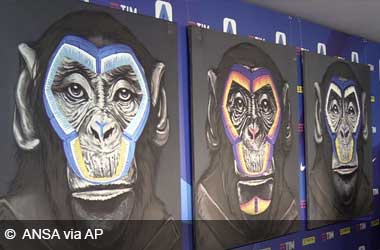 The chief executive of Serie A, Luigi De Siervo, apologised and released a statement earlier this week after the league faced criticism for their chosen artwork which was prominently placed in the headquarters where they carried out their anti-racism campaign.
The artwork showcased a set of monkeys which did not go down well with the general public.
De Siervo assured observers and fans that, despite this misstep by the league, it remains committed against all forms of bigotry and discrimination. After taking some time to reassess its campaign, De Siervo said, the rest of the anti-racism campaign by Serie A will be unveiled before March 2020.
The painting, by artist Simone Fugazzotto, depicts three monkeys side by side, purportedly representing three races, to convey the message that all humans are of the same race. Fugazzotto is renown in Italy for his disruptive art style. The anti-racial campaign was long overdue as the Serie A has been hit by a series of racial incidents.
It is primarily black players in Serie A who have been called "monkeys" by fans. De Siervo was one of the Serie A officials who stood in front of the painting and spoke about removing racism from the league. Before the controversy, the Fugazzotto painting was to be exhibited permanently in the entrance of the main hall.
Football Against Racism in Europe (FARE), the foremost anti-discrimination group in the sport, condemned Serie A's use of the painting, noting that such an approach would simply feed more into racist fans' monkey chants against players of African heritage.
ESPN UK
Serie A Cannot Tackle Racism on its Own
FARE lambasted Serie A for undertaking a major anti-racism campaign without at least consulting the league's own clubs for input. Instead, Serie A's choice to act unilaterally which severely undermines its own stated goals of fighting bigotry and prejudice in the league. FARE called for progressive clubs in Serie A to take the lead in the campaign.
Serie A clubs were similarly flummoxed by Serie A's choice of painting, as well as their lack of consultation with the clubs on its use. Both AC Milan and Roma expressed their surprise with the move, with Roma tweeting that there are likely better ways to express the same message without using such a controversial painting.
#ASRoma was very surprised to see what appears to be an anti-racist campaign from Serie A featuring painted monkeys on social media today. We understand the league wants to tackle racism but we don't believe this is the right way to do it. pic.twitter.com/jVLImrgS0y

— AS Roma English (@ASRomaEN) 16. Dezember 2019
A number of Serie A players have faced racially offensive chants and jeers from the crowd in recent months. Some notable players include: Mario Balotelli, Romelu Lukaku, Franck Kessie, Kalidou Koulibaly, Dalbert Henrique, Miralem Pjanic and Ronaldo Vieira. Aside from Pjanic, all the players are black; the racist chants have so far resulted in zero sanctions from the league.