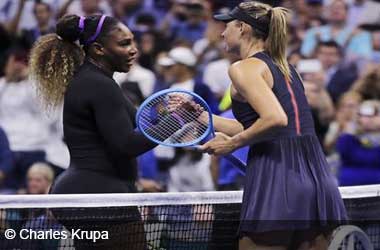 Serena Williams would have definitely been a little bit nervous starting her 2019 US Open campaign at Flushing Meadows. The 37 year old had taken a two week break prior to the US Open as she had suffered from back spasms and needed time off to recover. She also had to face an old foe in the first round as she was up against former World number 1 Maria Sharapova.
Serena Williams had beaten Sharapova 18 times in the lead up to the first round of the US Open and she continued her dominance over the Russian as she dismantled her in straight sets to win 6-1, 6-1 in less than 60 minutes and send a strong statement to the rest of the division.
US Open Tennis Championships
The last time Williams played at Flushing Meadows was during the 2018 US Open women's final where she had her infamous breakdown against Naomi Osaka and ended up on the losing side. She looked the consummate professional on Monday night as she put all that behind her and looked her absolute best.
Maria Sharapova had no answer for the power and placement that Serena was able to generate in just about every short. Williams would later go on to say that Sharapova tends to bring out the best in her and it was easy to play good shots as everything seems to land in the zone.
Williams who is our pick for this years US Open Title has won 6 grand slams at the U.S Open and will be very keen on avenging her defeat to defending champion Naomi Osaka who is the number 1 seed this year. Williams's next opponent is fellow American Caty McNally in round 2.
What Will It Take To Upset The Famous Trio?
In the men's division, there are no surprises. Novak Djokovic is the number 1 seed, Rafael Nadal is number 2 and Roger Federer is number 3. The famous trio have dominated the men's circuit for close to a decade and it looks like one of them will once again end up with the men's single's US Open Championship.
There continues to be a big gap between these top three players and the rest of the field. Some of the other contenders who will be looking to pull off a major upset include number 4 seed Dominic Thiem and number 6 seed Alexander Zverev.