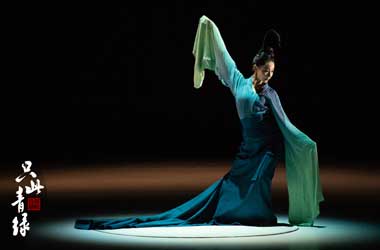 Summary:
Sands China will host a series of performing arts shows at its Macau properties
The new initiative is aimed at boosting its non-gaming offerings in the city
It forms part of the company's MOP27.8 billion non-gaming investment under the new 10-year concessions
Sands China Ltd is delivering on its commitment to boost its non-gaming offerings in Macau with the launch of the "Sands Performing Arts Program" under which the casino operator will be running a series of performing arts shows at its properties in the city.
The program will feature a wide array of performances across different genres, including music, dance, and Cantonese opera.
Sands Performing Arts Program Highlights
The lineup of performances featured in the program's debut include the Chinese dance drama "Poetic Dance: The Journey of a Legendary Landscape Painting" (pictured) which premiered in 2021 and has since been performed hundreds of times across the country.
The program will also showcase a presentation of the Chinese classic opera "The Peony Pavilion", a masterpiece by Ming dynasty playwright Tang Xianzu who is referred to as China's Shakespeare.
Vienna-based musical quartet Janoska Ensemble will also grace the stage with their creative arrangements of works by classical composers and pop music icons.
Also part of the roster is the "Floral Princess 65th Anniversary Macao 2023", a repertoire of renowned Cantonese operas.
Wilfred Wong Ying Wai, President of Sands China Ltd, said the new initiative is in line with the company's core vision of supporting the growth of non-gaming offerings in the city, including local arts and culture. The program will bring more top-notch national and international performing arts offerings to Macau, he added.
Accompanying the launch of the Sands Performing Arts Program is the opening of three new artwork spaces on June 1 at the teamLab SuperNature Macao digital museum at The Venetian Macao. The facility launched in 2020 and offers an interactive experience to visitors and guests through immersive artworks by teamLab.
Massive Investment in Non-Gaming Projects
As part of the new 10-year gaming concessions in Macau, operators have been required to boost their investment in non-gaming projects. Sands China has allocated MOP27.8 billion for its non-gaming initiatives which will cater to both domestic and international visitors.
Overall, the six operators pledged a total of MOP108.7 billion in non-gaming investments over the course of the new concessions, with a focus on attracting foreign customers. That figure is 10x the amount they have pledged for gaming.