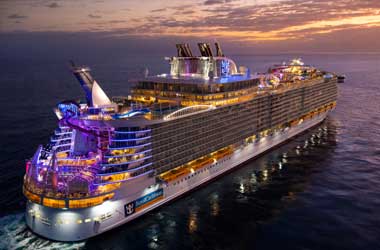 Summary
Royal Caribbean announces new policies for casinos
No smoking inside the casino in fears of COVID-19
Passengers now had an additional 30 days to make final payment
The cruise ship market like the hospitality and casino market has also been hit hard by the COVID-19 pandemic.
Cruise ship operators have been trying their best to make changes so that passengers feel safer and more comfortable on their cruises.
Royal Caribbean which is one of the biggest cruise ship operators in the world recently announced an update on their policies that will impact their floating casinos especially after a recent outbreak on their ships.
Smoking Ban In Casino
The most notable change is a smoking ban for all onboard casinos under Royal Caribbean. This ban will take effect on January 5, 2022. The main reason for the ban is the fear of Omicron COVID-19 spreading on one of its ships. This would be devastating to the company and the industry and the operator wants to take all precautions as possible.
A smoking ban might not seem connected to COVID but it is indirectly tied to it. Royal Caribbean requires that all patrons wear face coverings in vaccinated-only areas. This would stop anyone who wants to smoke. Smokers will still be able to smoke but not inside the casino which requires masks. They will have to go to a smoking area on the deck. The implementation is set for January next year but some ships are already doing it. Other cruise lines are expected to follow Royal Caribbean's lead.
Royal Caribbean has also confirmed that it will no longer be offering an onboard test for COVID which enabled passengers to re-enter their home country. This change is merely for economic reasons as the cruise operator has had to pay for thousands of tests in recent months as the cruise ship market has picked up in recent months. Testing all of their passengers will stretch the capacities of the company and the budget.
Starting January 5, if a passenger wants a COVID test, they will need to do it after getting off the ship. This can be a problem for those expecting to get on a flight to go home afterward. Royal Caribbean is offering several alternatives for passengers, all of them are not affiliated with the cruise line. Rapid testing can be done at the debarking terminal or local testing facilities.
Later Payment
Royal Caribbean is planning to make things a bit easier. Anyone who signed up for a cruise can wait a little longer for payment. The company has extended the final payment date by 30 days. This gives people enough time to adjust bookings and even cancel them if necessary.