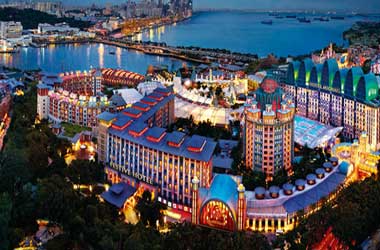 Summary:
The casino operator violated Singapore's AML rules and committed failings in customer due diligence
Singapore's regulator imposed two fines, totaling SGD95,000
Resorts World Sentosa was also fined last year for similar violations
Resorts World at Sentosa Pte Ltd, the operator of the Resorts World Sentosa integrated resort in Singapore, has been slapped with two fines for multiple regulatory violations.
The financial penalties were disclosed in the first annual report released by Singapore's Gambling Regulatory Authority (GRA). Resorts World at Sentosa Pte Ltd is owned by Genting Singapore Ltd.
Resorts World Sentosa Breached AML Rules
According to the GRA's report, two fines worth SGD20,000 and SGD75,000 have been imposed on Resorts World at Sentosa Pte Ltd for multiple breaches of Singapore's Casino Control (Prevention of Money Laundering and Terrorism Financing) Regulations 2009, and for failings in its customer due diligence duties in the 2022/23 period. The report did not delve into the details of the casino operator's violations.
The GRA officially launched in August 2022, taking on the role of the Casino Regulatory Authority which previously had oversight of the country's gambling industry. The GRA has since been operating with additional powers, being the sole regulator for all forms of gambling in Singapore.
In the regulator's first annual report, GRA chairman Tan Tee How said the agency intends to enhance its use of data analytics to drive effective regulatory measures, especially in terms of identifying potential violations by licensed operators. The GRA chair stated during the agency's inauguration last year that its officers would be equipped with new skills and competencies, including data analytics and artificial intelligence.
As the regulator marks its first year in the role, it should remain aware of the challenges and opportunities that lie ahead, according to its CEO Teo Chun Ching.
Ching acknowledges that gambling is an evolving market and that the GRA should be able to respond to emerging trends and technological advancements.
Singapore's gambling market is controlled by the casino duopoly of Resorts World Sentosa and Marina Bay Sands, the latter of which is operated by a subsidiary of the US-based gaming operator Las Vegas Sands Corp.
Resorts World Sentosa In Trouble Again
Resorts World Sentosa was also fined 2021 for regulatory breaches and more recently last year also. The casino operator received penalties totaling SGD275,000 for AML violations and failings related to internal controls during the 2021-22 period.