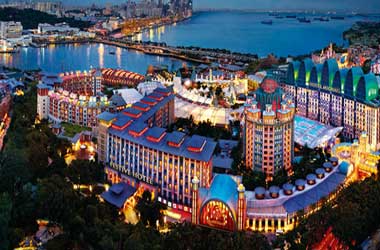 When it comes to casino resorts in Singapore, there is a duopoly, with Resorts World Sentosa (RWS) and Marina Bay Sands (MBS) being the only two operating casinos throughout the island nation.
The Casino Regulatory Authority (CRA) recently published its annual report which showed that Resorts World at Sentosa Pte Ltd., which operates RWS, was fined a total of SG$75,000 (US$55,448).
They were also the only casino operator fined in the 12 months to March 31.
According to the report, the company was fined due to their "failure to implement a system of internal controls approved by the Authority".
This is a requirement by Singapore's own Casino Control (Internal Controls) Regulations 2013. The annual report did not specify how RWS failed to implement the required internal control system.
In addition, the report also revealed that the CRA had increased its income from the previous period. For the 2020-21 financial period, they recorded SG$48 million in income in licensing fees. This is a small increase from the prior-year period, which recorded around SG$47.9 million.
New Gambling Authority
The annual report comes as Singapore is trying to set up a new gaming authority. This was announced back in April 2020 by Singapore's Ministry of Home Affairs. The Gambling Regulatory Authority (GRA) is supposed to be established this year. It will be a statutory board reconstituted from the current CRA.
According to the Home Affairs ministry,
the GRA will consolidate and optimize gambling regulatory resources within a single agency
They aim to make it more effective with technological and global trends, as well as respond to emerging products.
The establishment of the GRA has hit a bit of a snag. CRA chairman Tan Tee How admitted in the 2020-21 annual report that the pandemic has not made it easy for CRA officers to prepare for the GRA. Currently, many of the CRA employees are working from home due to the COVID-19 pandemic, which certainly hampers the much-needed developmental work.
Tan has said that reconstituting the CRA requires face-to-face discussions between the parties involved, which is difficult with a global pandemic going on. However, he would praise workers and officers for working relentlessly amid the new pandemic working conditions.
Chairman Tan would also add that the pandemic has changed gambling trends. He said that COVID-19 had
fueled the popularity of remote gambling as gamblers turned to gambling on their mobile devices during periods of lockdowns or movement control restrictions.
But as the year is winding down, it looks like they are still pushing through with the GRA. CRA chief executive Teo Chun Ching has stated in the report that despite the pandemic, there has already been some "significant progress" in their work leading up to the CRA reconstituting into the GRA.