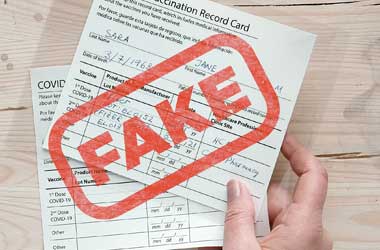 Summary
Loophole in Clear app exploited
Fake vaccination cards allegedly led to WSOP COVID-19 outbreak
Vaccine effectiveness put into question
The 2021 World Series of Poker (WSOP) recently came to a close and it was hailed as a massive success, but not without issues.
The festival was held with precautionary measures put in place to prevent the spread of COVID-19, but as the series was down to its final events, a cluster of positive cases emerged.
Fake Vax Cards Allegedly Used by Unvaccinated Players
Players were required to present proof of vaccination before being allowed to take part in the tournaments. Meaning, everyone who participated in the series should have been fully vaccinated, but several players still caught the virus while the festival was ongoing. This led to speculations that some participants might have provided "fake" vaccination cards.
One poker player alleged that there might be unvaccinated people who managed to bypass the Clear app by inputting fake dates and providing a picture of other people's vaccination cards. Angela Jordison failed to show evidence of her claims but she said it was common sense that the practice was 100% happening.
You put fake dates and take a pic of any vax card…doesn't even have to be your own. You'll be immediately cleared.

I do not have any names but common sense says when you can put false info and be approved instantly…it's 100% happening.

— Angela Jordison (@Angelajordison) November 15, 2021
While the series was in progress, many players tested positive for COVID-19, among them were well-known pros including Vanessa Kade and Chris Hunichen.
Poker Community Reacts
Jordison's allegations initiated a debate on social media. Some said that the fake vax cards issue already came out even before the start of the series and it should have been promptly addressed right from the beginning. Others downplayed the claim as mere speculations as there was no proof that it happened.
Anti-vaccine sentiments also added fuel to the fire. Kristen Bicknell questioned the effectiveness of the vaccines, claiming that she only heard of vaccinated players catching COVID-19 at the series. But she totally missed the point when she asked for proof about unvaccinated players testing positive for the virus at the WSOP.
First and foremost, the main purpose of requiring vax cards was to prevent unvaccinated people from taking part in the series. This means that most if not all of the positive cases that emerged at the festival were in the vaccinated population, even if some unvaccinated players indeed were able to play.
The Canadian poker pro was among players who earlier vowed to boycott this year's series because of the mandatory vaccination requirement.