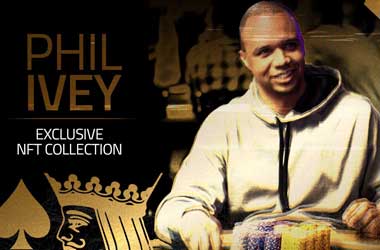 The World Poker Tour (WPT) chose to take an unprecedented initiative back in April.
Specifically, the organization decided to enter the non-fungible token industry (NFTs.) An NFT, a digital collectable, will be familiar to anyone who has played NBA Top Shot.
Obviously, the tokens in this instance will be based on the game of Poker. Now it has been revealed that the merchandise will be named after famous pro player Phil Ivey who confirmed that he will be the face of the NFTs.
Interestingly, the NFTs have been named the Royal Flush collection, following his winning of $25,000 grand prize at the Heads Up Championship.
It is obvious that he won't be doing it by himself. To transform the vision into reality, he has collaborated with Impossible Brief and Ethernity Chain. Royal Flush is the name of the NFT collection, which will honor famous players and also memorable events in WPT history.
EthernityChain
The collection will be organized around a playing card concept of 10, Jack, Queen, King, and Ace, with every card priced as per its face value. Furthermore, only a limited quantity of each card will be offered, and that too only for 72 hours. If the supply runs out before the 72-hour period is over, additional quantities will not be offered.
There are really only 8 Aces among the 100 10-card tokens, which include 75 Jacks, 50 Queens, and 20 Kings. Any digital sale, as one might assume, has a built-in software signature, ensuring that it is distinctive and verifiable. However, there is an intriguing twist: the NFTs are priced between $199 and $1,999 ERN. ERN is the Ethernity Chain-backed native crypto coin. So, anyone interested in adding the aforesaid NFTs to their own collection will have to deal with cryptocurrencies.
On the other side, there is a significant financial benefit. Those who can fulfill a set of criteria will be given the chance to play poker with Phil Ivey aboard a luxurious boat in Miami. The criteria include purchasing a Royal Flush token with the numbers 10, Jack, Queen, King, and Ace, as well as one of eight unique Ace tokens. The Aces will be auctioned off with a starting bid of $4,000 ERN.
It's a lengthy and arduous list of prerequisites, but there's a good possibility that several poker fans would leap at the opportunity to interact and play with the famed Phil Ivey.