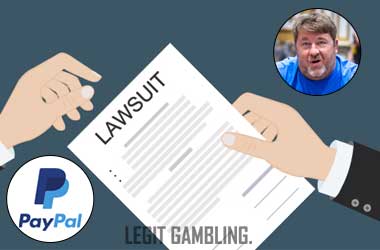 Summary
PayPal vs. Chris Moneymaker lawsuit set to become much bigger
PayPal could be facing a global class action lawsuit
Over 8,000 plaintiffs in China have already come forward
Eric Bensamochan, the lawyer representing poker legend Chris Moneymaker in the fight against payment processing giant PayPal, has discovered a way to expand the lawsuit to the global level. The lawyer has involved Justitia DAO, a company that invests in large legal disputes and claims, to help PayPal victims complain against the payments giant from any location in the world.
Bensamochan said they plan to hit PayPal with a mass arbitration after partnering with Justitia DAO. He also said that his law firm remains committed to the community and plans to take the legal fight to the fullest extent possible.
Those interested can visit paypalclassaction.net and register to receive a free blockchain token, which includes them in the class-action lawsuit. They will then get an independent manager to fight for them at arbitration.
History of the Lawsuit
Last year, PayPal got into trouble when they confiscated $12,000 from the 2003 WSOP Main Even champs funds. Chris Moneymaker approached Bensamochan and took legal action against the payments giant. Moneymaker soon got back his money, but it was too late for PayPal. The poker pro vowed to help other PayPal users get their frozen or confiscated funds back from PayPal.
Bensamochan continued to fight the case on behalf of other PayPal victims, including Lena Evans, the founder of the Poker League of Nations. Evans accused PayPal of deducting $26,984 from her account six months after freezing it for no valid reason. Although PayPal got this lawsuit to an arbitrator before it went to trial, Bensamochan decided to continue fighting for other PayPal victims by taking the case globally.
The lawyer says that his law firm promised Moneymaker to continue fighting for all PayPal victims. He encourages victims to visit paypalclassaction.net/about to get an updated contribution form and assures them that no amount is big or small and geographical location does not matter.
The lawyer expects the plaintiffs of the revised lawsuit to run up to 15,000 soon, and thousands more are in the process of joining. He said that they already have 8000 plaintiffs in China alone.
Who is Justitia DAO?
On its official website, Justitia DAO says that it uses a sophisticated business model to handle large legal disputes and claims with the potential to bring financial rewards and impact their respective industries positively. The company uses blockchain technology to enable partners and members from all over the world to join lawsuits.