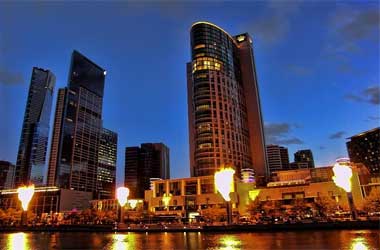 Crown Resorts found itself cornered during a New South Wales (NSW) commission inquiry as the answers provided by Crown's legal defense over a video showing a substantial exchange of cash in a private room at Crown Melbourne casino failed to convince the commission.
The footage in contention shows a customer gambling in the private wing switching cash with gaming chips, something that has led to the video being called the "blue-collar bag footage" in the hearing. Crown's defense have had a hard time convincing Patricia Bergin, the Commissioner in charge of the probe, that no money laundering is taking place in the video.
The incident has put Crown's Barangaroo casino permit on the line with the prosecutors advocating for a detailed audit of the casino operator before any form of licensing is advanced to them. This has forced Crown Resort to put on hold its planned December launch of its $2 billion Barangaroo Casino in Sydney.
ABC News (Australia)
Crown Resorts Has Too Many Red Flags
The prosecution pointed out that Crown Resorts has had numerous failures in the last six years in multiple areas including governance, cultural and financial. Crown Resorts has faced a number of controversies in recent years.
In 2016, 19 Crown employees who were in China carrying out market promotions were put behind bars as China does not allow any gambling activities in the mainland. Incidents like this show that the casino operator has little regard for laws and regulations, which Naomi Sharp, another counsel for the commission pointed out and called for the complete revocation of the Crown's license.
Two banks associated with Crowns are also under the microscope after suspicious activities were detected. Bank accounts held by the casino under Riverbank and Southbank Investments have now been shutdown after it was found that customers used them for money laundering.
Closing submissions by the casino's legal team will be presented on November 17.
Crown Melbourne Targeted
Crown Melbourne is the flagship property of Crown Resorts and is on the radar of the Australian Transaction Reports and Analysis Centre and the Victoria Commission for Gambling and Liquor Regulation who have been monitoring Crown Resorts operators closely as multiple red flags have been raised over Crown Melbourne in recent years.
Crown Melbourne is also facing money laundering charges and scrutiny over its relationship with junket operators who have ties to the underworld in China. Crown Melbourne is set to open its doors to the public on Nov 12 after being shutdown in March 2020 due to COVID-19.