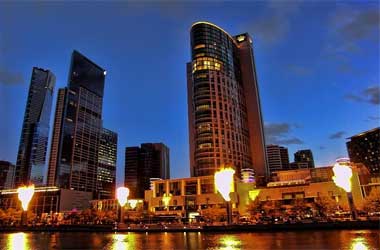 The Crown Casino Melbourne is one of Australia's most popular casinos and hosts a number of international events including the Aussie Millions. The casino has been in the news for a number of wrong reasons this year as reports confirm that the area surrounding the casino breeds violence, robbery and crime.
Data obtained from Victoria's new Crime Statistics Agency reveal that a crime occurs near the Crown Casino every 10 hours and a violent crime takes place every 3 days. These numbers could be even higher as reports suggest that the Crown Casino does not report all crimes that occur within its vicinity as it does not want to draw unnecessary attention to its premises.
The casino is a breeding ground for the underworld who push drugs, prostitutes and money laundering services on a regular basis. The Crown Casino which operates 24 hours a day throughout the week employs a number of security personnel who are responsible for preventing an illegal activity at the Crown from taking place. These security personnel are responsible for keeping the premises free from illegal activity and decide which incident is serious enough to report to the police or to be handled by themselves.
The data collected shows that during the past 10 years there have been 13 abductions, 50 robberies, 80 sexual assaults and 1180 assaults at the Southbank complex which is ironically covered by a number of CCTV cameras and private security personnel. Another 7600 crimes that were termed non-violent also took place at the gambling venue and most of these crimes were a result of intoxication.
One of the VIP gamblers who frequently visits the Crown Melbourne stated that there is another side to the gambling industry, a side that encourages vice, corruption and prostitution. The patron who preferred to be anonymous implied that casino officials often turn a blind eye to these illegal activities as the patrons who visited the Crown and spent large sums of money wanted access to girls, drugs and instant loans from loan sharks.
The Crown played down these reports and stated the statistics provided were not very accurate. Officials from the Crown also stated that the casino attracts more than 52,000 visitors each day and is considered to be one of the biggest attractions in Australia. In a statement, a representative of the Crown Melbourne said
Given the number of visitors to the resort, Crown has a very strong track record in dealing with safety issues and we work very closely with the Victorian police and regulators on these matters.