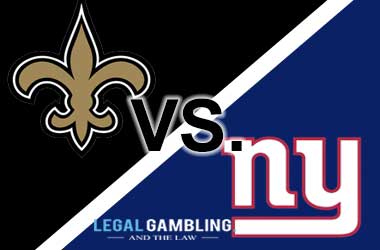 The Saints and Giants face off in an NFC matchup Sunday in East Rutherford. The last time these 2 teams played, the Giants eked out a 16-13 win at home.
The Saints are coming of an overtime win against the Falcons 43-37. Previously, the Saints lost to the Buccaneers 48-40, and snuck by the Browns 21-18.
The Giants are fresh off a W as well, beating the Texans 27-22 in Houston. Week 1 the Giants lost to the Jaguars 20-16, and lost 20-13 to the Cowboys in week 2.
Oddsmakers currently have New Orleans (-4) on the road, with an O/U of 50.5.
New Orleans Saints
Coming off a gritty shootout against a divisional rival, the Saints have to feel good after a shaky start to their season. Drew Brees is playing at an extremely high level even at 39 years old.
Brees threw for 396 yards and 3 touchdowns, and added 2 touchdowns on the ground. At wide receiver, Michael Thomas is showing why he deserves to be in the elite WR conversation. Thomas leads the NFL in receptions with 38 and yards with 398. Alvin Kamara continues to be a dynamic offensive weapon. Kamara has 289 receiving yards on 30 receptions, and has 141 yards on the ground, with 3 total touchdowns. The defense continues to be a question mark after last season's impressive performance. Cam Jordan is the only real pass rushing threat, and has racked up 4 sacks. The duo of Ken Crawley and Marshon Lattimore has been shaky, allowing 19.6 yards per catch, and has given up a combined 470 yards on the season.
Injuries and Inactive Watch
RB Alvin Kamara (knee)- questionable, CB Patrick Robinson (ankle)- placed on IR, WR Tedd Ginn Jr. (knee)- questionable, OT Terron Armstead (knee)- questionable
New York Giants
The Giants are coming off their first win of the season, and have to be feeling confident as well. Eli Manning has been average, but is coming off his best game of the season.
Manning tallied 297 yards and 2 touchdowns, and spread the ball around well. The duo of Odell Beckham Jr. and Sterling Shepard combined for 189 yards on 15 catches, and Shepard found the endzone late in the game to extend the Giants lead.
Rookie running back Saquon Barkley continues to be a big play threat, averaging 4.7 yards per carry this season on his way to 216 rushing yards. Barkley showed off his explosiveness last week, hesitating in the backfield and waiting for a hole to develop before bursting through and shaking 2 tacklers on his way to a touchdown.
Defensively, the Giants have been okay, but not as good as their 16.7 PPG allowed would suggest. They have played 3 subpar offenses, and their secondary was torched by Deshaun Watson last week. Their rotation at edge rusher (Kareem Martin, Kerry Wynn, Lorenzo Carter, Connor Barwin) have combined for 26 total pressures, but only 2 sacks to show for it.
Injuries and Inactive Watch
CB Eli Apple (groin)- questionable, TE Evan Engram (knee)- out, DT Damon Harrison (knee)- questionable, EDGE Connor Barwin (knee)- questionable
Matchups to Watch
Saints WR Michael Thomas vs Giants CB Janoris Jenkins
Saints OTs vs Giants EDGE
Giants OT Chad Wheeler vs Saints EDGE Cam Jordan
Giants WR Odell Beckham Jr. vs Saints CBs Ken Crawley and Marshon Lattimore
Predictions
The Saints are definitely the better team here, and will look to get in a bit of a groove against another shaky defense. Drew Brees has been playing at an MVP level, and the combo of Michael Thomas and Alvin Kamara should carve up this defense in the passing game.
The Giants struggle to get pressure on the interior, which is the weak point of the Saints O line, and their edge rushers should be shut down by Terron Armstead and Ryan Ramczyk.
The Giants will need to continue their heavy dose of Odell Beckham Jr. and Saquon Barkley in the quick passing game. Eli Manning is not the quarterback he used to be throwing downfield, and the Saints secondary still has playmakers in Marshon Lattimore and Marcus Williams.
We are honestly terrified for Manning this week. Cam Jordan spends the majority of his time rushing off the offenses right side, and the Giants have 2 wet paper bags at right tackle in Chad Wheeler and Ereck Flowers. Wheeler was beaten bad a few times, and
gave up 3 sacks last week after the Giants benched Flowers.
We are taking the Saints with almost zero hesitation. The NFL is always unpredictable, but the Saints outmatch the Giants in almost every matchup on the field. If they can get in Eli's face early and often, and limit yards after the catch, the Saints should have no issue walking out of MetLife with 7+ point win.
Final Pick: Saints (-4)