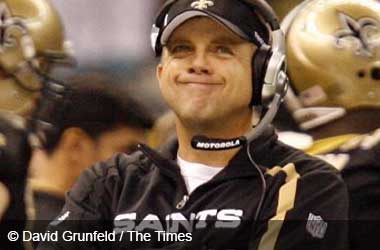 The New Orleans Saints will take on the Philadelphia Eagles on Sunday in a divisional playoff opener and know that they will have to be on top of their game in order to beat the Eagles.
When it comes to the NFL playoffs, everyone knows what is on the line and players at this level shouldn't need any motivation to go out and give their best. However, Saints head coach Sean Payton decided to put things into perspective for his team by coming up with another unique motivational strategy to get his players ready for Sunday.
Payton is known for using some really innovative methods to get his team prepared for a big match.
He has used tactics such as dressing up as New England Patriots head coach Bill Belichick to provide a humorous report, leaving mouse traps around the lockers to warn his players about not eating the cheese and bringing in mascots from his players alma maters.
This time Payton decided to put up an impressive display by bringing in three security guards who had with them $200,000 in cash, the Lombardi trophy and a Super Bowl Ring. This was a great picture to put things into perspective for the Saints who were surprised by the move. The $200k in cash is potentially what each player can get from the playoff bonuses based on the current collective bargaining contract.
WDSU News
Players Respond Well To Payton's Motivational Strategy
The move went down well with the Saints who were excited to see the Lombardi trophy and the pile of cash on display. Quarterback Drew Brees said this was Payton's way of putting things into perspective so that everyone in the team, especially the younger players know what is at stake going into the playoffs.
In a statement, running back Mark Ingram said
That's definitely motivating. Of course, everybody's playing to be champions. But that trophy, that bread, all that's on the line. It's just another little way to get us going. I told 'em I want my presentation to look just like that. I want 'em to come to my house. Lombardi, the glass box of cash, my ring, all that..armed guards. I want that same presentation.
Brees said that the Saints are not making any changes to their preparation for their game against the Eagles. The team will go out as usual and give their best keeping in mind the picture that Payton painted for them!