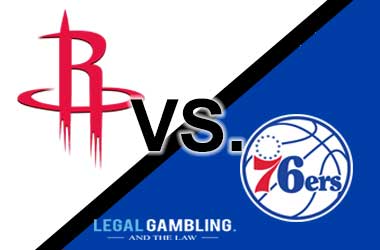 2 of the NBA's most dynamic teams meet in Philly on Martin Luther King Day as the Rockets travel to take on the 76ers. The Rockets lead the all time series 72-69, and have won 8 of the last 9 matchups head to head.
The Rockets most recent game was Saturday, in which they defeated the Lakers 138-134 at home. Last Monday (1/14) they beat the Grizzlies 112-94 at home, and on Wednesday (1/16) they lost 145-142 to the Nets in OT at home.
The 76ers lost on Saturday 117-115 to the Thunder at home most recently. Last Tuesday (1/15) they smoked the Timberwolves at home 149-107, and on Thursday (1/17) they beat the Pacers 120-96 on the road.
GTBets has the 76ers as 5 point favourites with an O/U total of 234.
Houston Rockets
(26-19 overall, 9-12 on the road)
The Rockets started this season slow, but have caught fire over the last month or so. They rank 10th in the league in scoring, averaging 112.6 PPG while shooting 44.7% from the field and 35.2% from 3 point range. They are among the worst rebounding teams in the league, averaging 42 rebounds per game and a league worst 31.2 defensive rebounds per game, and average 14.2 turnovers to 7.7 steals per game.
Defensively, they hold teams to 47.6% FG shooting, and 33.9% from 3 and allow 110.5 PPG. James Harden has been unreal, averaging 35.7 PPG, 6.4 RPG, 8.5 APG and 2.1 SPG while shooting 43.9% from the field and 37.6% from 3.
Eric Gordon averages 16.2 PPG, 2.5 RPG and 2.2 APG while shooting 38.7% from the field and 31.5% from 3. Austin Rivers has had to step up lately, and is averaging 12.6 PPG, 2.8 RPG and 3.6 APG on the season. Gerald Green (9.2 PPG/35.1% from 3/2.8 RPG) and P.J. Tucker (8.2 PPG/38.3% from 3/6.3 RPG/1.4 SPG) are quality contributors as well.
Key Injuries
G Chris Paul (hamstring) – out, C Clint Capela (thumb) – out
Philadelphia 76ers
(30-17 overall, 19-5 at home)
The young 76ers have been exciting this season, and have won 7 of their last 10 games coming into this contest. Their offense is 4th in the league in scoring, averaging 115.4 PPG while shooting 47.3% from the field and 35.9% from 3 point range. They rank 5th in rebounding at 47.5 rebounds per game and are 3rd in the league in defensive rebounds per game at 37 per game while averaging 15.6 turnovers per game to 7.4 steals per game.
Defensively, they allow 112.2 PPG, and hold teams to 45% from the field and 34.7% from 3. The 6ers are well rounded offensively, with 4 players averaging over 16 PPG (Joel Embiid, Jimmy Butler, J.J. Redick, Ben Simmons). Embiid paces them with 27 PPG, 13.2 RPG, 3.6 APG, and 2 BPG while shooting 49% from the field and 30.6% from 3. Butler chips in 19 PPG, 4.8 RPG, 3.6 APG, and 1.9 SPG while shooting 47.5% from the field and 38.6% from 3.
J.J. Redick is having a career year, shooting 38.1% from 3 and 44.6% from the field on his way to 18.5 PPG. Ben Simmons has done it all for them, averaging 16.6 PPG, 9.5 RPG, and 8.2 APG as well as 1.3 SPG and 0.8 BPG.
Key Injuries
C Joel Embiid (back) – game time decision
Predictions
With the way Harden has been playing, its hard to turn down the Rockets and the points, but man are they banged up. Playing without Chris Paul leaves them without many quality on ball defenders, but the loss of Clint Capela might be bigger. Without Capela, they have played a lot of small lineups with P.J. Tucker at the de facto 5 position. Neñe is really the only natural big on the roster at this point, and he is a bit long in the teeth at 36 years old.
With the Rockets lack of size and defensive intensity, Joel Embiid and Ben Simmons should feast in the paint. The Rockets offense will once again run exclusively through Harden, and while there is no one on the 6ers, Jimmy Butler included, who can hold him down for long, it will be near impossible for him to will his team to a win on the road against a quality and well rounded team like the 76ers.
Harden will keep this one interesting, but the 76ers are playing great ball right now shooting over 51% from the field in their last 5 games.
Final Pick: Philadelphia 76ers (-5)