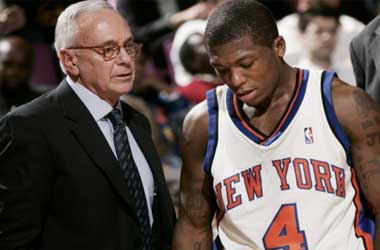 If you are a new NBA fan and are not familiar with the name Nate Robinson , you can be forgiven because Robinson has not played in the NBA for the last couple of seasons.
The 5'9 guard had a 11 year career with the NBA where he represented a number of franchises such as the Knicks, Pelicans, Warriors, Bulls, Nuggets and Clippers.
Robinson won three dunk contests during his time in the NBA and was considered to be the joker around the team.
However, he was fighting a private battle as he struggled to cope with bullying and enormous pressure that his coaches imposed on him. This led him into depression and caused him a lot of problems in his personal and professional life.
He said that he never had a problem with depression until the NBA made him that way. Robinson talks about how he was bullied by former Knicks coach Larry Brown who kept calling him a "little shit" every day and the negative impact that had on his mindset. He recalls going privately, breaking into tears and asking Brown to stop abusing him and the response he got was a public shaming in front of the team when Brown told the rest of the squad how he cried and once again called him a "little shit".
Larry Brown responded to those accusations and said
I don't know what I called him, to be honest with you. If I did that, shame on me. I would feel terrible about that. That's not who I am, but I don't want to dispute Nate.
ESPN
Depression Rampant Amongst NBA Players
A number of top NBA players have opened up about their battle with mental health. Some of these players include Kelly Oubre, Kevin Love and DeMar DeRozan. The pressure to perform, the constant media scrutiny and the price of fame can often turn out to be too much for NBA players to handle.
Robinson played his last NBA match during the 2015-2016 season and since then has spent time playing basketball in Israel and Venezuela. He is looking to make his way back to the NBA and will play this season in the Drew League and BIG3.