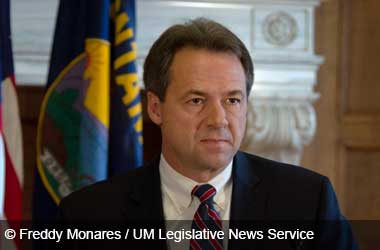 Montana is the latest state that has approved sports betting in its jurisdiction and the seventh to make sports wagering legal since the Supreme Court overturned PASPA 1992 in May 2018. Montana is the first state to legalize sports betting in 2019 with other states still struggling to sort out issues and come to a mutual agreement that would allow sports betting legalization.
Montana Governor Steve Bullock signed the HB 725 bill into law which will now allow the state lottery to operate sportsbooks by taking bets via kiosks and mobile apps.
The Montana law takes effect immediately and its supporters are already moving to get the state's sports betting operations up and running. Their goal is to have the infrastructure in place so that everything is ready by the start of football season in September.
The bill will allow for licensed bars and restaurants to have kiosks and mobile apps for betting which can take place only inside these establishments. This is one of the main reasons why the bill passed and why the Montana Tavern Association pushed so hard for it. This means that association members will have a monopoly on betting inside dining establishments.
KRTV NEWS
Owners are already calculating how much they will earn from all those patrons staying longer and paying more because of sports betting.
Estimates put Montana's sports betting wagers to be more than $65 million in the first year. The government gets a cut of that and expects to collect around $3.7 million. Additionally, wagers are expected to rise to $87 million by 2023. This could mean $5.4 million in revenue for the government when these numbers are hit. The money generated will go to the state treasury and to a scholarship fund.
Two Sports Betting Bills Reviewed
Initially, lawmakers sent Governor Bullock two bills to consider. One of them was the bill that got approved while the other one S 330 allowed private businesses to run sportsbooks, kiosks and mobile apps. The state Department of Justice would have been in charge of regulation based on the second bill.
Though supporters wanted both bills to be approved, Bullock vetoed the second bill. The governor thought that the lottery approach was a much better fit since there was already an infrastructure in place and also had heavy regulation to better protect the customers. In his opinion, the second bill would have led to a fragmented market with weak regulation.
However, supporters of the second bill haven't given up and hope to have the governor take a second look at it so that private operators can have their piece of the sports betting pie.