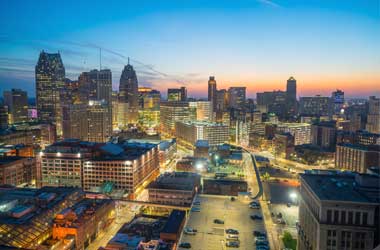 Not every state has been eager to jump on the sports betting bandwagon since the U.S. Supreme Court lifted the PASPA ban in May 2018. While it is true that many states are scurrying to implement legalized sports betting legislation and tap into the lucrative revenue stream, Michigan is taking a cautious and more measured approach.
Although the Michigan House recently passed a bill giving permission to Detroit casinos to offer online gambling, Bill HB-4926 does not allow those casinos to offer sports betting. That doesn't necessarily mean that sports betting is off the table though.
Michigan Gaming Control Board spokesperson Mary Kay Bean claims that none of Detroit's three commercial casinos have asked about opening sportsbooks.
However, these casinos appear to be biding their time as regulations for sports betting are clarified. Bean has stated that sports betting is an issue that needs to be addressed by the legislature and governor's office but that Michigan Gaming Control Board would look at any proposals and see if they comply with the Revenue Act and the Michigan Gaming Control.
Sinas Dramis
Jack Entertainment's CEO Matt Mullen said that his company has received a lot of interest from their patrons who are want sports betting options at their facilities which includes Greektown Casino and Hotel in Detroit. MGM Grand Detroit and the MotorCity Casino have also indicated that they want to see sports betting legalized in Michigan. Rep. Brandt Iden, R-Oshtemo Township, says that he will introduce legislation with the intention of clarifying the regulations pertaining to sports betting in the state's brick and mortar casinos. This legislation is expected to be rolled out in the fall.
Legislation Must Address Conflict Of Interest
Iden has stated that he wants to make sure that the legislation is detailed and makes sense so it might take a bit of time. There are a couple of complicated angles to consider in Michigan's case. Iden points to the fact that Marian Ilitch, who owns MLB's Detroit Tigers and the NHL Detroit Red Wings, also happens to own and operate MotorCity Casino while Dan Gilbert owns the NBA's Cleveland Cavaliers as well as Greektown Casino. These blatant conflicts of interest will definitely be addressed when Iden's sports betting legislation is introduced. While sports betting fans in Detroit await the new legislation, they can still cross the Ambassador Bridge and head to Caesars Windsor in Canada where parlays have been offered for several years.