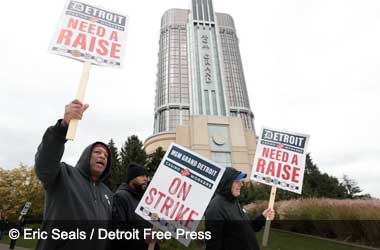 Summary:
MGM Grand Detroit employees remain on strike.
The employees do not agree with the length of the contract and pay raise.
Employees want higher wage increases upfront.
Late last week, the three commercial Michigan casinos located in Detroit sent tentative agreements to unionized employees. A vote took place, and MotorCity Casino and Hollywood Casino Greektown employees decided to approve the agreement. MGM Grand Casino employees did not. We now know the reasoning behind the decision and why the casino is still on strike.
Contract Length and Pay Raise
The employees seem to have an issue with the length of the contract and the amount of the first pay raise. The contract is 64 months long, which is just over five years. Many employees did not agree with the terms of the deal. Around 700 employees voted no for the ratification of the union contract.
The second issue was the pay raise amount. The casino agreed to give employees a $3 raise upfront. Those who voted no feel the amount should be higher, more in the $6 and $7 range for the first year.
Those who voted no felt that signing the deal would disadvantage future employees. However, over 600 employees voted yes to the terms. Employees who did vote yes reportedly were told to vote no. It is believed that the employees will vote yes on a contract if they are given more money up front and a reduction in the number of years for the contract.
MGM Grand Casino Response
The MGM Grand Detroit has responded to the agreement it sent to employees last week. The company said it was unfortunate that the employees voted no and that it was a disappointing result based on the historic nature of the offer. The deal would have immediately benefited the employees and their families.
The casino was also disappointed in the outcome since the other two casino deals were accepted by their employees. Everyone was voting on the same contract, and it is considered an investment in the future of Detroit and fulfills the industry promise to the city of offering high-paying casino jobs with good benefits.
The casino plans to remain open and allow any employee who wants to cross picket lines to return to work. MGM pointed out that the contract offers the largest wage increase ever negotiated in Detroit within the casino gaming industry. It features an 18% pay raise on average.
There is no health care cost for employees and workload reductions and additional job protections are included. The contract also includes technology language for the first time and an increase in retirement.
For now, we wait and see if MGM Grand will return to the drawing board or if it will become a waiting game for what happens next.