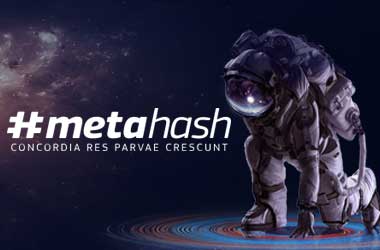 One of the main difficulties faced by blockchain networks is scalability. In fact, scalability issues have kept blockchain technology to bring about a sweeping change in all sectors. Many blockchain companies are trying to develop a viable solution to this problem. #MetaHash is the latest company to have created a solution to the scalability issue. The company is claiming to have developed a "lightning fast" protocol capable of processing more than 60,000 transactions per second. The geographically-distributed network is currently being tested and a free browser, named #MetaGate, is offered for this purpose. The browser is currently available for Windows, Mac OS X and Linux platforms. iOS and Android versions of the browser will be soon made available.
The protocol, dubbed #TraceChain, takes a maximum of three seconds for confirming a transaction. #TraceChain and #MetaHashCoin, a cryptocurrency, are the two of the four components that make up the system. Within the system, #MetaHashCoin can be exchanged for Bitcoin and Ethereum. #MetaApps, the platform built by #MetaHash is already touted as a "revolutionary platform for building standalone decentralized applications." It has a graphical user interface that resembles a normal application or web related service. Even projects that have been built using other programming languages can be easily converted into #MetaApps software. To give an idea of the flexibility of the platform, the white paper says that "Even complex apps such as YouTube or Facebook can be decentralized with #MetaApps."
The #MetaGate browser can be used to access all the decentralized applications and the multi-currency wallet. More than 200 servers are currently employed worldwide to perform the testing process until the end of June 2018. The servers will be replaced by token stakes once the ICO is completed. #MetaHash is confident of processing more than 5 billion transactions on a daily basis.
#MetaHash has also explained how its system fares in comparison with other major players such as Bitcoin, Ethereum and EOS. The #MetaHash system can perform between 60,000 and millions of transactions per second. Notably, it takes at least 10 minutes to complete a Bitcoin transaction. Ethereum is slightly better with 30 transactions per 5 seconds. EOS, which pits itself as a competitor to Ethereum, claims to process millions of transactions per second, but is a highly centralized system.
The transaction costs are lower than any other network and there are five stages of consensus for verifying a transaction. Similar to other blockchains, the transactions cannot be tampered. A coordinated attack on Bitcoin, Ethereum and other networks can only disrupt #MetaHash network.
In its Round A initial coin offering, which starts on June 29, #MetaHash aims to distribute 920,000,000 #MetaHashCoin (#MHC). The allocation represents 10% of the total token liquidity. Each #MHC token is offered for $0.0391 and can be bought with ETH and BTC as well, based on the prevailing exchange rates. The token price is 2x lower than the price at which it would be offered in the subsequent rounds. The applicants will also avail the advantage of early forging, which is planned for August of this year. Once that is completed, #MetaHash plans to release several tools for third-party developers. Additional network components will be published along with an elaborate security testing, as per the project's roadmap. This would pave way for a decentralized system in the first quarter of 2019.