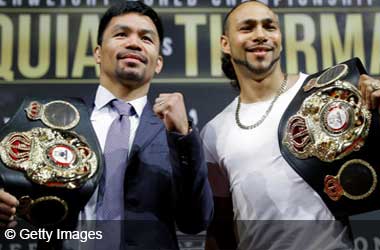 Manny Pacquiao handed welterweight champion Keith Thurman his first loss over the weekend after winning by split decision. There were many who expected Pacquiao to retire and leave the ring for the last time but the 40 year old has no plans to retire anytime soon.
Pacquiao who serves as a senator in his home country the Philippines, has really nothing left to accomplish in the boxing world. He will go down as one of the best boxers of his time as he is the only boxer to become an 8 division boxing champ. The fight against Thurman was Pacquiao's 71st professional fight and his record shows 61 wins and just 7 losses, one of them being to Floyd 'Money' Mayweather.
After his win, the press wasted no time in asking Manny Pacquiao if he plans to call it a day and his answer was rather interesting.
Pacquiao who is a devout Christian and one who is not ashamed of his faith said that he believed God gave him a platform to display his talent and gift to fight. He was going to continue to give glory to God by soldiering on and doing what he loves to do.
PBC ON FOX
Ready To Give Thurman A Rematch
That gift was on display against Thurman as Pacquiao knocked him down in the first round and looked really impressive with his speed, footwork and timing. Thurman who is 10 years younger had talked thrash to Pacquiao in the lead up to the fight.
Thurman had promised to retire Pacquiao and said that he would win by KO within the first six rounds. That wasn't the case as the normally calm Pacquiao looked fired up and showed that class and experience can triumph over youth and trash talk.
Pacquiao was clearly the more aggressive fighter and was looking for the KO throughout most of the fight, who we predicted to win. Thurman bounced back towards the latter part of the fight as Pacquiao slowed down a bit and allowed Thurman to take a few rounds towards the end. The split decision went in favour of Pacquiao who spoke highly of Thurman after the fight, being the gentleman that he is.
Pacquiao said Thurman was a tough fighter who gave it is his best in the ring but came up short. The Filipino senator is open to a rematch which could take place sometime next year.