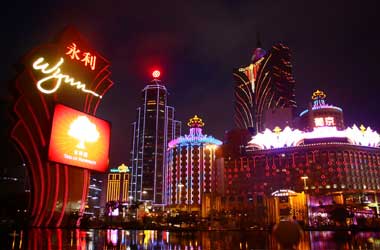 Summary:
Morgan Stanley predict Macau's mass revenue and EBITDA to get closer to 2019 levels in Q2
The stronger recovery is attributable to the casinos' non-gaming offerings and improving visitation figures
Three casino concessionaires are expected to grow their market share in Q2
Macau's casino industry will see a stronger recovery in the second quarter of 2023, according to analysts at Morgan Stanley.
Earnings before interest, tax, depreciation, and amortization (EBITDA) are expected to reach nearly US$1.65 billion from April to June, a 46% increase from the previous quarter.
Macau Casino Mass Revenue Getting Closer to 2019 Levels
The predicted rise in EBITDA for Q2 of 2023 translates to around 69% of pre-pandemic levels and will mark the first time that mass revenue gets closer to 2019 figures. Morgan Stanley analysts Gareth Leung, Stephen Grambling and Praveen Choudchary expect Macau's casino mass revenue to increase by 29 percent to just below US$4.79 billion in the second quarter of the year, equivalent to 89% of 2019 levels.
The analysts attribute the Q2 revenue increase in part to recent developments in the casinos' non-gaming offerings, with major concerts held successfully in the three months to June. Visitation was at 60% of pre-COVID levels in the second quarter of 2023 and is expected to improve with the return of package tours and the improved capacity for ferry and air travel, the analysts stated.
Morgan Stanley's quarterly forecast coincides with JP Morgan's positive outlook for June in which it has seen steady results so far relative to May's figures. Based on current trends, the financial institution is also predicting Macau's mass revenue to grow to 85% of pre-pandemic figures in Q2 of 2023.
JP Morgan said achieving stable gross gaming revenue (GGR) in June indicates a continuing recovery for the sector as well as in visitation which drives base mass volumes.
Potential Top Performers in Q2
Morgan Stanley predicts Macau's gaming industry to fully recover in 2024, with mass revenue expected to hit 115% of 2019 levels. That figure will grow to 125% in 2025.
The firm considers Wynn Macau Ltd, SJM Holdings Ltd, and Melco Resorts & Entertainment Ltd to be the strong performers in the second quarter of the year as the three concessionaires recently enhanced some of their facilities and offerings.
Renovation works in Wynn Macau Ltd's peninsula property have just been completed, with SJM Holdings also ramping up its Cotai venue, the Grand Lisboa Palace.
In April, Melco Resorts launched its indoor waterpark and Epic tower hotel which analysts believe has helped boost the casino operator's revenue for Q2. Its residency concert series which kicked off in April can also be considered an important revenue driver for the operator.