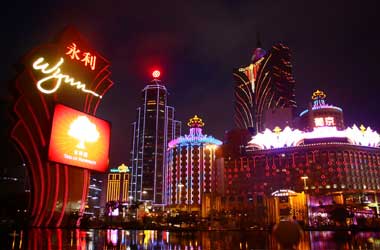 International security consultant Steve Vickers & Associates recently released their annual Asia Risk Assessment report, which studies and analyzes major threats and challenges Asian countries could be facing in the New Year. The report has good things to say about Macau's political and economic conditions but has issued a red flag when it comes to casinos in Macau.
Macau's casino industry is responsible for generating a significant portion of the city's GDP. Vickers explained that the recent growth in Macau's gaming revenue speaks of the stability in the Chinese special administrative region, but heavy reliance on the VIP market is a huge concern. The red flag issued regarding security concerns over Macau's casinos have to do with possible terrorist attacks.
Casino operators in Macau have stepped up their security measures in recent times but security threats are still a major concern. According to Vickers, the nexus of American, Chinese, and Jewish interests in Macau's gaming sector are driving risks to the country's casinos. In 2016, a similar warning was made by Vickers, when the firm predicted that Macau casinos are attractive targets for Islamic terrorists.
The issues raised then include changes in the policies of the Chinese central government, including the anti-corruption campaign that drove gamblers away from Macau, and the increase in the risk of corruption investigations.
Vickers received criticism in 2016 after they labelled Macau's casinos as risky. Vickers has yet again highlighted security concerns in 2018 for Macau's casinos and remains firm in their assessment. Steve Vickers was once the head of the Hong Kong police criminal intelligence bureau, making them no stranger to the Macau casino activity. In addition to international terrorist threats, Vickers noted the institutionalization of triad societies and organized crime in the Macau casino scene as another source of risk.
Because of these threats, the Macau government announced that they will be holding simulated terrorist attacks in airports and casinos this year, as part of the training program for the city's security forces. Plans for a drill system were made public as early as October last year, after the high-profile casino attacks in Manila and Las Vegas that claimed hundreds of lives.
In a statement, Steve Vickers, chief executive of Steve Vickers and Associates, said
I am happy to see Macau authorities taking this threat more seriously. The exercise doesn't really lower the risk but it certainly boosts the chances of a more effective response by all concerned