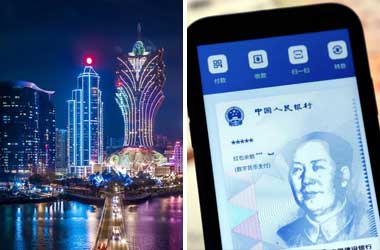 Summary:
Macau has taken the first step to accepting digital currency as legal tender
A research professor has stated that Macau's casino sector is not yet prepared to accept bets in digital currency
It should take between 5 and 10 years for digital RMB to be fully incorporated into the gaming floor
The casino industry in Macau is not yet ready to fully embrace the use of digital renminbi (RMB) which is the official currency of the People's Republic of China. It will take at least five years before casinos completely incorporate the digital currency into their operations.
Ricardo Siu Chi Sen, associate professor in business economics at the University of Macau, made the remarks on the sidelines of the Global Gaming Expo (G2E) Asia event recently held in Macau.
Full Adoption of Digital Currency at Macau Casinos Only After 2028
Casino operators are considering the potential use of digital RMB on the gaming floors as it would provide players with a more convenient option to make a wager considering that cash exchanges would no longer be required.
However, Mr. Siu said that there needs to be a "transition", and the processes involved to make that happen will take up to 10 years to complete. General use of digital RMB at casinos won't happen in a short-term period, he said.
China commenced a major trial of digital RMB, also known as digital yuan, back in April 2020, with the digital currency adopted into the monetary systems of four big cities.
The Chinese government sees the digital currency as a way to combat money laundering, terror-financing, and illegal gambling. Skeptics have raised concerns over the level of control authorities would have in monitoring an individual's financial transactions when the digital currency is fully adopted. The PBOC addressed this by saying that users would still have "controllable anonymity" when making transactions.
The Macau government initially unveiled plans to accept digital currency as legal tender in 2022. In June 2023, Macau's Legislative Assembly approved a Bill allowing the city to establish a digital currency in the future. However, details remain scarce as to whether it would be adopted at casinos, though the idea has been welcomed by operators because of its many benefits, including cashless gaming.
Players usually place bets at Macau casinos in Hong Kong dollars. Hong Kong is currently part of China's Cross-Border Interbank Payment System (CIPS), which operates in a similar manner to SWIFT. Mr. Siu suggested there's still a long way to go before casinos could fully accept bets in digital currency.