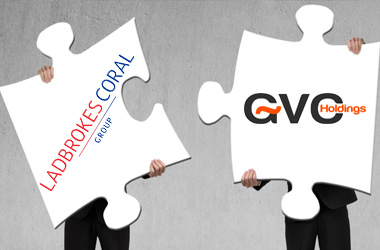 The £4 billion merger that brings together gaming giants Ladbrokes Coral and GVC has been given the go-ahead by the UK Competition and Markets Authority (CMA).
The regulatory body that ensures that competition is maintained in the UK market reviewed the merger in detail and found that the deal does not create any competition concerns.
CMA started its review in December 2017 and after months of deliberation announced earlier this week that it had no cause for concern regarding the potential merger. This was due to the fact that GVC only has online gaming services and a small presence in the UK via its Foxy Bingo website. The watchdog also thinks that the two companies are not close competitors and the merger will not impact the UK gambling market as there are still a number of other betting providers servicing the UK.
Sky News
The CMA looked at the betting services that Ladbrokes and GVC offered for individual sports and individual games and discovered that there will be enough rivals to the merged entity. This provides enough competition to prevent arbitrary price increases or a lowered quality of services. The shareholders of the two companies already agreed to the merger earlier this month and gaining approval from the CMA was one of the last hurdles that the merger faced.
Merger Will Create Global Gaming Giant
When the deal is finalized, it will create a global gambling giant. The merger combines Ladbrokes' high street operations with GVC's set of online brands such as Sportingbet and PartyCasino. Ladbrokes will be happy that the deal is going through as this is the third attempt at a potential merger. The first two discussions broke down during the negotiation phase and didn't reach the CMA investigation phase.
When the deal was initiated, the value was estimated to be at £3.2 billion. During the last few months, the deal price has gone up to £4 billion. The terms of the takeover will see GVC owning 53.5% of the merged company and GVC's CEO, Kenneth Alexander will be the one who heads up the new company. The merger will also save the combined company around £100 million every year but will also result in the loss of over a 100 jobs at Ladbrokes Coral. The merger is still subject to a final approval from the Court which is set for March 26.