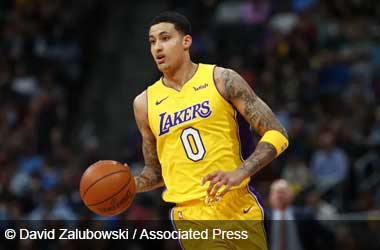 LA Lakers, the reigning NBA Champions are working hard during the off-season to ensure that they field another super strong team for the start of the next season. The Lakers want to ensure they have a strong line-up and reserve bench strength ahead of the new season.
The Lakers have confirmed that they have re-signed Kyle Kuzma for the next three years on a $40 million contract.
The Lakers know that their future success is based on keeping their core team from last season together and signing new players that will continue to strengthen their talent resources. The Lakers management have done a great job in retaining LeBron James for the next two years after paying out $85 million.
They have also re-signed Anthony Davis who played a vital part last season in helping them win. The Lakers got Davis to sign a 5 year extension after originally turning down 4 years in January and will pay him approximately $190 million over the course of 5 years.
Lakers Nation
Kuzma is the latest player to have been retained by the Lakers even though he did not play a major role last season. Kuzma is just 25 years old and has a career average of 16 points per game along with 1.9 assists and 5.5 rebounds. Kuzma played a big role for the Lakers during the 2018-2019 season when he started in just about every game.
When Davis came on the team, Kuzma took a back seat. However, it appears that the Lakers have plans for Kuzma which is why they were willing to pay big money for him, even though it is unlikely that he will start for the Lakers this season.
Kuzma Happy To Re-sign With The Lakers
Kuzma would like to start for the Lakers this season but knows it might not be possible. For now, he is happy to continue to play for the Lakers and help them with their push to win a second consecutive NBA championship.
Lakers head coach Frank Vogel said the plan was to continue to use Kuzma as both an attacking and defensive option when he plays. Kuzma is aware that his role with the Lakers will continue to change and he is prepared to step into any role and learn while he plays alongside King James and Anthony Davis.
LeBron James was pleased to see Kuzma retained and reminded him that he was buying dinner the next time over Twitter.