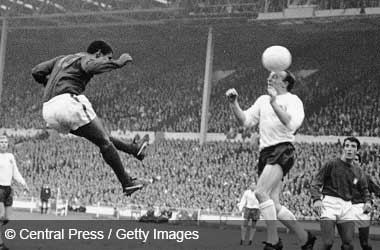 A number of former football players in the UK have come together and called on the Parliament to pay serious attention to the potential link between dementia and heading the ball in football.
Some of the players involved in this campaign include Vinny Samways former forward for Tottenham Hotspur, Viv Anderson who played for Arsenal and Peter Reid who played for Everton.
These ex-players, coaches and a number of MPs sent a letter to the Secretary of State for Digital Culture, Media and Sport (DCMS). They called on Minister Oliver Dowden to review the 2019 report which examined the potential link that heading a football had in increasing the risk of dementia.
Football, Heading and Dementia
This new push comes after a couple of days after Nobby Stiles (pictured above)received a medical diagnosis from experts confirming that his brain had been significantly damaged from heading the ball. Stiles was part of the 1966 squad that won the FIFA World Cup.
The 2019 report which was referenced said that was no direct link between dementia and heading a football but it also pointed out that players who repeatedly headed a football increase the probability by 3.5 times of dying from dementia and other neurological diseases.
The Football Association (FA) and the medical department from the Union of European Football Associations (UEFA) soon after released a set of guidelines a banning any young footballers under the age of 12 from heading the ball in practice. These guidelines said that after the age of 12, players could slowly be introduced to heading the ball.
Parliament Needs To Do More
This group of ex-players said the action taken by FA to provide better protection to children was good but not enough. They want the government to commission a detailed study to examine the links between dementia and heading the ball. In light of this research, they want the government to decide if the current football regulations are good enough to protect players from head trauma.
The League Managers Association (LMA) is also part of this campaign and is calling on Oliver Dowden to take this matter seriously. LMA Chairman Richard Bevan said there is a growing increase in dementia amongst football players and it is high time that the government did something to address this link.
DCMS confirmed that it has received the letter and will review is shortly.