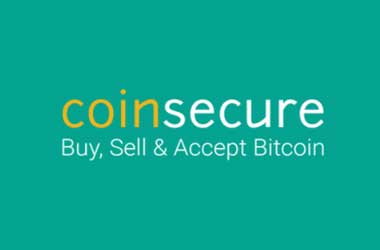 Coinsecure, a popular bitcoin exchange in India was in the news for all the wrong reasons last week as the cryptocurrency exchange was hacked and millions were stolen. The company has now announced that it plans to pay back customers who had their Bitcoins stolen. Coinsure also announced a 10% bounty to anyone who can help in their recovery.
The exchange lost around 438.31859715 BTC on April 8 which is estimated to be around $3,067,220. The Bitcoins were stolen from an offline wallet that held the exchange's funds. In response to this, Coinsecure announced a bounty of 20 million rupees, which is equal to $306,722, for any help in the recovery of the lost Bitcoins. It has also stopped all deposits and withdrawals for now.
Fortunately, only around 11,000 customers were affected and that was a blessing in disguise considering that the exchange has around 2 million users. However, the theft is still the biggest one involving cryptocurrency in the country. The exchange claims that this was not an outside hack, but actually an inside job with allegations that its chief security officer could have played a role in taking the money.
Coinsecure's CEO Mohit Kalra has come out and directly accused his company's chief security officer, Dr. Amitabh Saxena of the theft. When the exchange revealed the theft, Kalra already made it clear about his suspicions about an inside job. However, there is no solid evidence against Saxena. Despite this, Coinsecure has requested the Delhi police to confiscate Saxena's passport, to stop him from leaving the country.
Coinsecure Very Transparent With Hacking Details
Coinsecure is pretty open about what happened. The company revealed that the stolen Bitcoins were moved to this address: 1BaEJquitskdXcTj53Uy6PuUtJ5a8ETWpA. Currently, there have been 973 transactions made with this address and the final balance remaining in the address is 139.42094629 BTC, which is just a fraction of the Bitcoins that were stolen.
The process of the theft started when multiple transfers were sent to the wallet address in small amounts. The Bitcoins were then spread out to multiple addresses.
In a statement, the company said
We are also seeking help from the Bitcoin community and all our users who can help us identify the hacker or give us any information that could lead us to recover funds…We are happy to issue a bounty of 10% to the community for help rendered for [the] recovery of BTC.
As for repayment, the company plans to provide a full refund if the Bitcoins are fully recovered. However, if the Bitcoins are not recovered, the company will apply the lock in rates as of April 9. 10% of the balance will be given in Bitcoin, while 90% will be returned in rupees. Final details are still pending though as Coinsecure is still on lockdown.