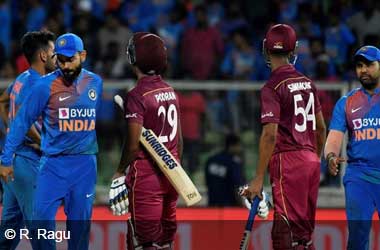 The Indian cricket team over the last few years have been one of the best fielding sides in world cricket in all formats of the game. So when they dropped 5 catches in the first T20 game against the West Indies, most fans put it down to them having a bad night.
Their fielding did not get the criticism it deserved because India somehow managed to win the first T20 due to a brilliant knock by captain Virat Kohli.
However, the poor fielding continued to haunt them during the second T20 on December 8 as they put down 3 catches that eventually cost them the game.
When captain V Kohli or vice-captain Rohit Sharma play well, India ends up getting a big total.
The two big funs failed at Thiruvananthapuram on Sunday night as Sharma fell for 15 and Kohli for 19. Some big hitting by all-rounder Shivam Dube (54 of 30 balls) who was promoted to 3 gave the innings a boost and helped India to get to a total of 170.
That was a modest total given the fact that India were 140 for 4 after 16 overs and should have got to 180 or 185 at least. However, some good bowling at the death by the West Indies ensured that they were not going to chase a big total.
No Answers For Big Hitters
The Indian bowlers struggled to trouble the West Indian batsmen who were able to dispatch them to all parts of the ground at will. There was not a lot of due on the ground but it was just enough to make it difficult for the spinners to come into play and trouble the batsmen.
Bhuvneshwar Kumar was unlucky as he should have had both openers early on but Washington Sundar and Rishabh Pant dropped catches in the same over. V Kohli was visibly frustrated with his sides poor catching but things did not improve as the fielders continued to leak runs.
Ravindra Jadeja who is arguably one of the best fielders in the India side, let a ball go through his legs and conceded four runs. Kohli was not very impressed with the fielding and said after that match that a team cannot win if they drop so many catches and field so poorly.
India will have a chance to make amends on December 11 as they must win the final T20 to win the three match series.