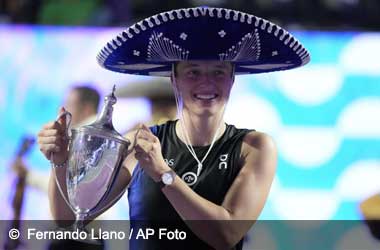 Summary:
Iga Świątek made quick work of Jessica Pegula at the WTA Finals
Świątek won in straight sets and became the youngest WTA Finals champion since 2011
Świątek's win at the WTA Finals allowed her to regain her world number 1 ranking
The WTA Finals in Cancun, Mexico received a lot of publicity but for all the wrong reasons.
The focus should have been the quality of players and the tennis action at the WTA Finals but instead the news that made headlines was the poor courts at Cancun and the lack of fans that showed up to watch the games.
World number 2 Iga Świątek even put out a call to fans during a post-match interview asking them to come in and fill the empty as the players were giving their 100 percent on the court to entertain fans!
Swiatek Wins WTA Finals With Easy Win
Świątek had a great run at the WTA finals and so did American Jessica Pegula and they both ended up making it to the finals. Fans were expecting it to be another close clash as the two have played each other 3 times in 2023 and Pegula had the edge with a 2-1 win record.
Pegula looked fantastic at the WTA finals as she came into the finals with a 9 match win streak and that included beating 3 of the top 4 ranked players in the world at the WTA Finals. Pegula beat no 4 ranked Elena Rybakina and world number 1 Aryna Sabalenka in the group stages and then world number 3 Coco Gauff in her run to the final.
However the 22 year Świątek made easy work of Pegula in the finals as she ended up winning in straight sets. Swiatek looked in total command from the start and never once let her opponent back in the match. Swiatek went on to win 6-1, 6-0.
Świątek Reclaims World No 1 Ranking
Świątek entered the tournament as the world number 2 and needed to win the WTA finals in order to reclaim her world number 1 ranking from Sabalenka which she conceded in Sep 2023. Świątek will now finish the year as the world number 1, making it the second consecutive year that she will end the year as the world no 1 ranked female player.