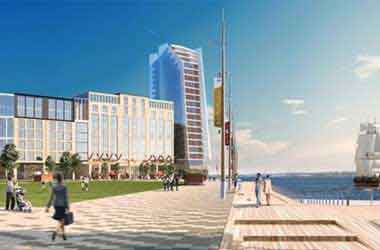 The Aspers casino development planned in Southampton's Royal Pier is now in the clear after a High Court judge rejected a challenge to the City Council's decision to award the project to Aspers.
The victory puts the massive waterfront redevelopment program of which the casino is a part, back on track.
The legal challenge came from rival Global Gaming Ventures (GGV) which had a competing offer to construct a casino in the city at the Hammerson shopping development in West Quay Watermark.
Splice Marketing Ltd
In a statement a city council spokesman said,
The High Court has dismissed the claim made against Southampton City Council by Global Gaming Ventures in respect of the award of the large casino license to Aspers last year. Costs to be paid by GGV have been agreed and there is no cost to the residents of Southampton.
GGV has won similar tenders in the cities of Leeds and Bath and decided to take Southampton Council to court after the council decided to award the casino license to Aspers last year. The company claimed in its suit that since the term Gross Value Added is part of the evaluating criteria, the benefits should have been assessed mathematically.
GGV also noted that the construction activity at the West Quay Watermark was already ongoing while the Royal Pier project is yet to kick off. Additionally GGV stated the council has failed to have an alternative tenant for the project.
Justice Jeremy Baker however rejected its claims and said that the council had made it clear from the beginning of the tender process that the Royal Pier was the ideal location for the license.
Richard Noble, Chief Operating Officer of Aspers said that the company was looking forward to developing a high quality casino in Southampton pointing out that it had already delivered two such projects previously in UK.
Reacting to the judgment, Royston Smith, Tory MP for Southampton Itchen said that the casino was envisioned to be the primary financial driver for the waterfront redevelopment project so it was the right decision. Plans for the casino complex include development of 730 apartments, several restaurants, close to 50 retail outlets shops along with a 250-bed luxury hotel.
The Aspers project is expected to generate around 180 new jobs in the area. Taxation has been set at two percent of its gross gaming revenue. The company will be making an initial payment of £100,000 towards the license and then a further £150,000 on opening. An annual payment of £50,000 will be made for gambling programs.