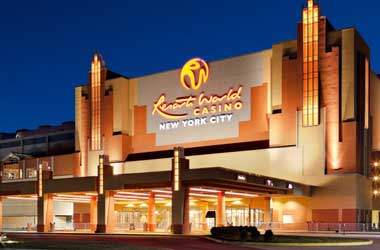 Summary
Moody's said there are financial risks involved in Genting's US gaming expansion
The company is considered among the frontrunners for a casino license in New York
The bid could impact its credit rating, given the huge costs involved in the project
Genting Group is in a strong position to win one of the three gaming licenses up for grabs in downstate New York, but expanding its gaming operations in the city would entail some risks, according to analysts at Moody's Investors Service Inc.
Huge Investments Required in Genting NY Casino Expansion
Analysts and industry experts believe Genting is among the leading contenders for a casino license, given its experience in running a gaming facility in New York City. The Malaysia-based leisure and entertainment company owns and operates the Resorts World Casino New York City located in Queens which currently offers electronic table games and slot machines.
Genting will only need to expand the racino facility so it can offer full gaming, including live casino table games such as blackjack and poker, once it is granted a casino license. This puts the company at a huge advantage over its competitors, most of which will have to start from scratch if they are successful in their bids.
However, Moody's warned in a report this week that Genting Bhd, which operates in New York via its subsidiary Genting New York LLC, would need to invest a significant amount of operating and financial resources into the project if it were to win one of the licenses.
Moody's stated that Genting's potential acquisition of a casino license in New York could result in a "significant cash outlay" involving license fees and development costs in the future. The New York casino project would lead to a "material increase in debt", triggering an aggressive financial policy that would impact Genting Bhd's rating, according to Moody's latest report.
Moody's Affirms Genting Bhd's Baa2 Rating
The credit ratings agency has affirmed the "Baa2" issuer rating of Genting Bhd, which means obligations are subject to "moderate credit risk". It stated that the company will benefit from full-year earnings contribution from Resorts World Las Vegas which opened in June 2021.
Genting Bhd is expected to register consolidated earnings before interest, taxation, depreciation, and amortization (EBITDA) of between MYR9 billion (US$2.1 billion) and MYR10 billion in 2023 and 2024, up from MYR7.2 billion in the past financial year ended September 2022.
Moody's expects Genting Bhd's leverage to improve to 4.5 times and 4.0 times respectively in 2023 and 2024. However, the agency notes that the casino operator may not meet the expected 4.5x level this year if it wins one of the three gaming licenses in New York.