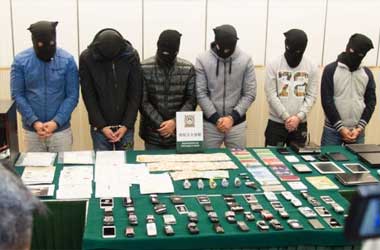 Five members of the Macau's police force have been arrested on charges of corruption and exhortation in a raid conducted last week. According to news reports, they have been accused of allowing gamblers from Mainland China to enter Macau illegally, bypassing the city's entry regulations.
Four officers from the criminal intelligence unit of the city's Public Security Police and one ex-officer from its immigration service are in custody. They have been charged with corruption, running a criminal organization and misconduct by a public official. There are also reports of an additional six more officers being arrested but were let off without any charges and are pending further investigations. The raid and subsequent arrests took place after the recent arrest of a local immigration officer who was suspected of charging gamblers for similar illegal travel into and out of Macau.
Visa controls for Macau's entry and exit were tightened in 2014 as a part the Chinese anti-corruption campaign but were subsequently eased in mid-2015. Mainland Chinese tourists are now allowed to stay for a total of 7 days in Macau and allowed entry twice every 30 days.
Earlier, the stay was limited to a maximum of 5 days and entry into Macau was twice every 60 days. Industry observers believed that the relaxation in visa rules took place in an effort to revive the city's declining casino industry.
Judiciary Police (PJ) in Macau said that the officers set up the extortion racket targeting one or more junket operators in an unnamed casino operator in the city. Gamblers from Mainland China were asked to pay fees of around MOP 70,000 or US$ 8700 to enter and leave Macau without going through legal channels. They also paid around MOP80,000 or US$ 10,000 for transportation and protection facilities within Macau during their visit.
The racket run by these corrupt officers is said to be have been operational for over four years and the scam is estimated to have netted these officers a total of MOP 1.8m ($220,000) during this period of time. The PJ has suggested that this estimate was on the conservative side as the officers were also believed to have been extorting money from junket operators.
Junket operators thought to have links with organized crime, have been the mainstay of Macau's casino revenues, particularly VIP gaming revenues. The recent crackdown on corruption has resulted in increased investigation and strict regulations, which has caused a lot of junket operators to either shut down or scale back significantly Macau's Secretary for Security, Wong Sio Chak, has stated that he was deeply concerned over these arrests and has ordered a complete investigation including a review of internal controls and supervisory measures in the police force.