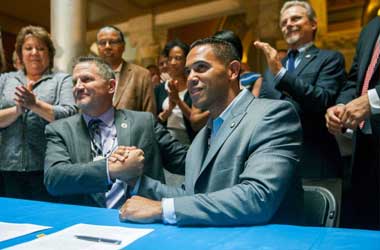 The Mashantucket Pequots and Mohegans, the two tribes seeking to jointly set up a third casino in Connecticut to counter competition from MGM's nearby Springfield casino project have decided to refrain from approaching the current session of the legislative assembly for approval.
The two tribes separately run Foxwoods and Mohegan Sun casinos in the state and had proposed the third casino saying that MGM's Springfield project across the state's border would pose a significant threat to Connecticut's revenue and job market.
The tribes were supposed to decide on a location for the third casino but had earlier stated that they would be unable to pick the location for the casino before the close of the current legislative session which ends in a week's time on May 4. The tribes have also decided to wait until 2017 to raise the critical question of the impact of permitting a third casino on the state's revenue. The two tribes pay currently 25 percent of their gross revenues annually to the state as taxes, amounting to around $200 million.
The compacts signed decades ago by the tribes with the state specify that if a third casino is approved by the state, the tribes would no longer be required to share a portionof their revenues with the state. George Jepsen the state's Attorney General, who raised this concern last year, said that the provision would be applicable even if the third casino was one set up by Native American tribes.
However the Bureau of Indian Affairs, according to the tribes has reassured them that amendments in the compact would not impact the state's revenue sharing clause.
In a statement, Lawrence S. Roberts, acting assistant secretary for Indian Affairs at the U.S. Department of the Interior said,
Our view is that the tribes existing exclusivity arrangement would not be affected by a new state-authorized casino that is jointly and exclusively owned by the tribes.
The tribes have said the backing from BIA supports their casino expansion plans as it provides reassurance that the cash-strapped state will not lose revenues. However BIA's view is not binding until federal approval is given.
Andrew Doba, a spokesman for MMCT the tribes' joint venture company said that the BIA confirmation provided the foundation on which a comprehensive legislative proposal could be developed and presented to the legislative assembly in the next session. Stephen D. Dargan, co-chairman of the legislature's public safety committee also supported this stance.
The tribes are confident that even with this delayed schedule they will be able to beat the opening of MGM Springfield which is expected to be during the early part of 2018.