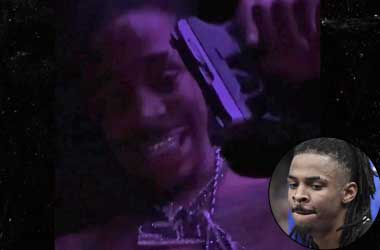 Summary
NBA All Star Ja Morant was found showcasing a gun on an Instagram livestream
Police in Glendale, Colorado have confirmed they have launched an investigation
Memphis Grizzlies suspend Ja Morant for two games due to incident
NBA All-Star Ja Morant who plays for the Memphis Grizzlies has got into trouble with the law, his team and the NBA due to an Instagram Live Stream from a nightclub.
Ja Morant Live Stream Shows Him With A Handgun
On 04 March, Ja Morant who has 9 million followers on Instagram started a live stream which showed him partying with his friends. The livestream captured a moment which looked like Morant was packing a handgun.
The video went viral quickly and caught the attention of the Glendale Police Department who has decided to launch an investigation into the matter.
Colorado has an open-carry policy when it comes to gun laws but does not permit individuals to be in possession of a gun when under the influence of alcohol. The NBA does not allow its athletes to possess a firearm when traveling on a team bus or while on team property.
Technically, it does not appear that Ja Morant has broken in any laws as the video did not capture him being intoxicated and consuming alcohol. However, the Memphis Grizzlies decided to suspend him for two consecutive games and are yet to confirm if and when Ja Morant can join the team. Can the Grizzlies cope without one of their star players, how much of a miss will he be? Checkout the latest basketball odds with our selected bookies.
The Glendale Police Department released a statement and said that they have opened an investigation but cannot provide further information since it is an on-going investigation. The NBA have also opened an investigation into the incident and could add further penalties if they find that Ja Moran has violated any of the League's laws.
Ja Morant Will Take Time Away From Basketball
Ja Morant has issued an apology for his conduct and said that he accepts full responsibility for his actions. Morant has also confirmed that he will take some time off from the game as he needs to find better methods of dealing with his stress and overall mental health.
Grizzlies coach Taylor Jenkins knows how important Morant's presence is for the team but he isn't going to rush Morant back. Taylor said they are taking it one day at a time as this was an on-going healing process for Morant.