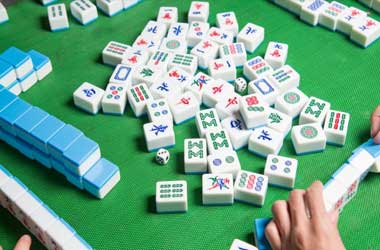 Mahjong is one of China's favorite pastimes and you can find people all of ages playing the game throughout the country. Mahjong was developed in the 19th century and is played with tiles.
It is similar to the game of Rummy but with twists of its own.
China bans on all form of gambling but has allowed Mahjong to be played in the open for years as it wasn't considered a form of gambling.
It looks like China has changed its stance on Mahjong as Yushan County has now outlawed the game, making millions of Chinese people unhappy over the new ban.
Yushan Ban On Mahjong
In a surprise move that has mahjong fans worried, police in Yushan County, which is a small county in southeast Jiangxi province, announced that they would be banning mahjong parlors. The stated goal was to curb illegal gambling and reduce noise problems and clean up social conduct. After an outcry, the police clarified that this would only involve unlicensed parlors.
The Yushan announcement was made on October 20, when the police said that all mahjong parlors would be closed by October 22. This Yushan announcement comes after other cities made similar announcements claiming that Mahjong parlors encouraging gambling would be shut.
Though mahjong is technically not supposed to be played with money, many players make small wagers. Typical Mahjong games usually have bets from $1 to $15. Gambling is technically illegal in China but Jiangxi province has laws that protect those who play for small amounts of money. But there is a provision which states that players who gamble for more than $28 could be punished.
Online Backlash Over Mahjong Ban
The announcement was quickly met with an online backlash. People pointed out that while China does have a problem with illegal gambling dens, mahjong parlors often operate with licenses. Many online comments pointed out that some people just play mahjong for fun and entertainment.
There were a few people who did see a positive side to the ban, with comments about how noisy mahjong is. Mahjong's heavy tiles make a notable clacking sounds when they are shuffled and was cited as one of the reasons for the ban.
The backlash was quite powerful that Yushan authorities had to quickly revise their statement. They cleared up that licensed mahjong parlors would not be affected by the ban and that it was only meant for places that encouraged illegal gambling. Despite this, some parlor owners say that they will not operate during the clampdown.