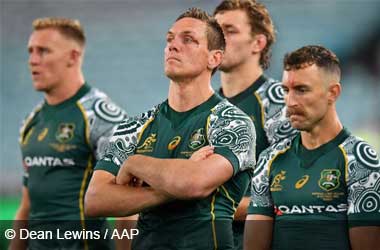 New Zealand secured the Bledisloe Cup on 31st October after putting in a dominating performance against Australia that ended with a 43-5 scoreline.
The margin of defeat was embarrassing to say the least for the Wallabies who were completely outclassed and outplayed for the majority of the game.
The Wallabies are a tough team and carry themselves with a lot of pride but their performance has deteriorated with each game against the All Blacks. The fourth and final test will be played on Nov 7 at the Suncorp Stadium in Queensland.
The Wallabies are huge underdogs with odds of 5.50 against favorites All Blacks who have odds of 1.16.
Sky Sport NZ
The Wallabies need to go in with a better strategy and more important have the presence of mind to execute it. Australia looked completely out of sorts in the first half in the third test as their defense was weak and just lacked the belief that they could actually beat New Zealand.
They did put up a competitive 10 minutes of play in the second half when they played as a unit and pushed the All Blacks but that fizzed out quickly. The one good thing that came out of the game in Sydney was that the Wallabies successfully managed to mark Caleb Clarke and keep him out of the game.
They will need to work on having more possession of the ball, marking Richie Mo'unga as well as the marked Clarke and focus on eliminating silly errors. The big question is whether they will be able to recover so quickly after such a huge loss.
Australian Public Need To Be More Patient
The Australian public have not shied away from criticising the Wallabies on social media, calling for a change in leadership and for new players to be selected. Former Wallabies player Matt Giteau who has over a 100 caps for Australia took to social media to ask Aussie fans to be patient with the current team.
Giteau said that he understood the frustration given that the 48-5 defeat was the biggest margin of defeat in nearly 90 years of the Bledisloe Cup. He said the Wallabies had a young squad that were being exposed by playing the best team in the world. He does have a point as the Wallabies have introduced 7 new players in the last month and also brought back 6 discarded players.
Will the Aussies be able to fight back? We will have to wait and see.