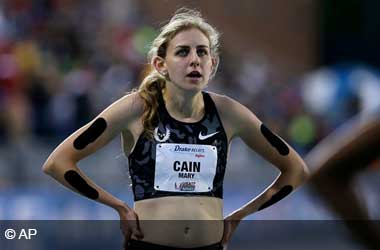 Nike acts as a sponsor for some of the biggest sportstars in the world which includes Cristiano Ronaldo, LeBron James, Rafael Nadal and Tiger Woods.
Nike also has very strict rules when it comes to its ambassador's code of conduct and has dropped athletes like Olympian Marion Jones and female tennis star Maria Sharapova when they failed drug tests.
American middle-distance runner Mary Cain is now calling out Nike for having double standards.
Mary Cain was sensational as a teenager breaking multiple national records and qualifying for the 2013 World Championships.
She was then selected by Nike to be part of the Nike Oregon Project which was led by head coach Alberto Salazar. This program brought together a special group consisting of the fastest runners in the world. They were given the opportunity to train full time at Nike's headquarters.
Back in 2019, Cain came out and said that she was emotionally abused by her coach Salazar who fat shamed her. She said Salazar designed a program that forced her to keep losing weight and getting thinner because he wanted her to drop to 114 pounds as he felt that was the best weight for her.
The New York Times
Salazar would make her weigh herself in front of her athletic teammates and when he found her overweight, he would publically humiliate her in front of her teammates. Cain said the continuous mental torture forced her to think about ending her life.
The World Anti-Doping Authority would go on to ban Salazar in 2019 for doping and give him a four year ban. Nike would later go on to close the controversial Oregon Project.
Nike Endorsed Oregon Project
Cain has now come out and said that Nike endorsed the program and Salazar's behaviour at the time by not holding him accountable or following up with the athletes. Cain has filed a $20 million lawsuit against Nike as she said the damage to her mental and physical health was long term.
Cain claims that during her time at the Oregon Project she never had a period for three years because she had very little oestrogen in her system. The lack of oestrogen resulted in poor bone strength and caused her to break five different bones. They want to hold Nike accountable for the program as their legal team believe Nike was willing to let their athletes be exploited for their own profit.
Nike is yet to response to the lawsuit.