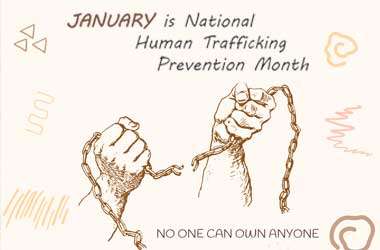 Summary
The AGA has released a new toolkit to spread awareness about human trafficking
It is the second resource released by the Anti- Human Trafficking Task Force
Human traffickers are known for plying their business at casinos
January is "National Human Trafficking Prevention Month" and to mark the occasion, the American Gaming Association (AGA) is running a month-long awareness campaign aimed at combating human trafficking in the US gaming sector.
Anti-Human Trafficking Toolkit for the Gaming Industry
To boost its campaign, the AGA has launched a new toolkit which contains resources to help raise awareness about human trafficking. The new toolkit is packed with educational resources, links to anti-trafficking programs, as well as communication materials such as social media graphics.
In a bid to bolster gaming industry efforts in combating human trafficking, the AGA formed the Anti-Human Trafficking Task Force in 2022. The initiative aims to stamp out all forms of human trafficking in the industry. The Task Force is comprised of AGA member executives with expertise in various specialized sectors of the gaming sector, such as security and anti-money laundering compliance.
AGA's Vice President for Government Relations Alex Costello said the Task Force was created to have a "comprehensive and overarching" effort to fight human trafficking in the industry.
The Task Force published its first guide in June 2022, entitled "Preventing and Combating Human Trafficking in the Gaming Industry". The guide tackles multiple human trafficking-related subjects, and also includes ways to identify human trafficking at gaming operations, as well as anti-human trafficking best practices that the industry must implement.
The new toolkit is the second resource developed by the Task Force.
Gaming Properties a "Real Target" for Human Traffickers
An estimated 25 million people fall victims to human trafficking worldwide each year, with numerous incidents occurring at hotels and casinos. Costello said the gaming industry has increasingly become a real target for traffickers due to the high volume of financial transactions being exchanged. She also stressed that human trafficking does not only happen at major casino resorts where punter can play poker as even smaller venues across the country are not immune to the crime.
To effectively combat human trafficking, Costello emphasized the need to train employees at gaming establishments to spot and report potential victims. Operators must also coordinate with the police and link-up with anti-human trafficking groups.
The AGA is running its campaign with four weekly themes for the month. This week focuses on working with law enforcement, while the rest of the month focuses on uniting with travel partners and empowering employees.