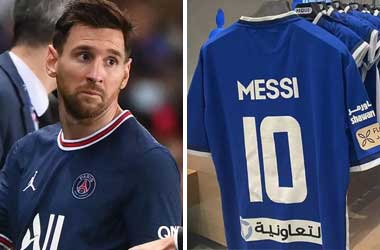 Summary
Lionel Messi could end up joining Saudi Pro League alongside Cristiano Ronaldo
Al-Hilal is alleged to have put a $430M contract to get Messi on board
Messi is yet to extend his contract with PSG and becomes a free agent soon
The Saudi Pro League has got a lot of media attention in the last few weeks after Al-Nassr signed Cristiano Ronaldo for a reported deal estimated to be over $300 million per year.
Al-Nassr said they were willing to spend big money on Ronaldo as they considered him to be "the best player in the world".
Al-Hilal Offering Lionel Messi $430M Contract
Al-Nassr currently tops the points table at the Saudi Pro League while Al-Hilal is ranked in third place. Media reports claim that Al-Hilal is going after Lionel Messi and are willing to spend even more money than Al-Nassr to sign the 2022 World Cup winning captain.
Lionel Messi currently plays for Paris St Germain (PSG) in France and is yet to re-sign with PSG and renew his contract which is set to end during the summer. If Messi does not re-sign with PSG, he becomes a free agent and will be on the radar of a number of top teams, including his old team Barcelona.
Messi will turn 36 in June 2023 and like Ronaldo is coming to the end of his career. Will Messi want to finish out his career by returning to Barcelona where he spent most of his career or will he prefer moving to the United States and playing for Major League Soccer (MLS).
Al-Hilal is reported to be offering Messi a whopping $430 million contract for him to make the move to Saudi Arabia. It will also give Messi, a chance to compete with Ronaldo once again as the two best players in the world wind down their career.
Saudi Pro League Getting Lots Of Attention
Lionel Messi already has ties to Saudi Arabia as he signed a contract in 2022 to become their latest tourism ambassador and is reported to be getting $40 million on the deal. If Messi does join the Saudi Pro League alongside Ronaldo, it will give both the Saudi Pro League and football in Saudi Arabia massive media coverage.
While top clubs such as PSG, Barcelona and Manchester United will be keen on getting Messi, none of them will be able to offer Messi a financial offer as attractive as Al-Hilal.