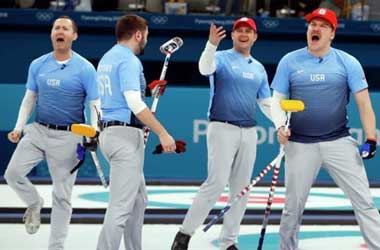 The United States Curling Team came back from behind to pull off a stunning victory over favorites Sweden to win the gold medal in the team curling finals on Saturday at the 2018 Pyeongchang Olympics.
The Americans have struggled with Team Curling in the past but this time around the team of Tyler George, Matt Hamilton, John Landsteiner, Joe Polo who were led by team captain John Shuster went the distance and beat Team Sweden team 10-7. This was the first time that an American team went past the bronze medal stage at a winter games.
For Shuster it was as sweet a victory as he played on the previous three American Curling teams. One two of those occasions, Team USA had terrible results with the 2010 team finishing last in the ranks while the 2014 team came second to last. The Americans also had a poor start to the 2018 winter Olympics and were on their way out after losing to Norway last weekend. But after a streak of five consecutive victories, including two extremely close matches against heavily favored team Canada, Team USA made it to the finals.  The two back to back victories over Team Canada, gave Team USA enormous confidence and that helped them in the finals.
The match started off as many would have thought it would, as Team Sweden looked to capitalize on the mistakes made by Team USA and this helped them take an early 2-0 lead. From then onwards, Team USA fought back and the game went back and forth with the scores tied on 5-5. Captain Shuster then had an epic moment during the 8th when his shot knocked the Swedish stone off the button to score 5 points to put the U.S team up 10-5 at the start of the ninth. The five point deficit was something that the Swedish team could not overcome and the score when the dust settled was 10-7 in favor of the Americans.
Curling fans are comparing this gold medal win to the Miracle on Ice, when the 1980 U.S Men's Ice Hockey Team somehow beat the heavily favored Soviet team. Shuster's team turned up the heat when they needed to and it worked out well for Team USA.
When Shuster took the podium to receive gold, he said
"From the day that the 2014 Olympics came to an end, every single day was with this journey in mind."