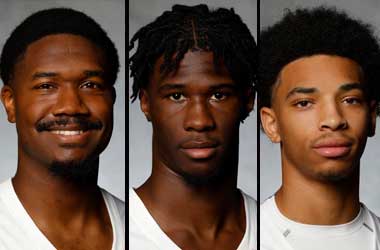 Summary:
New Mexico State was left embarrassed earlier this year after allegations of sexual assault within its basketball team
New Mexico State went on to suspend its 2022-2023 basketball season
Now 3 ex-players have been charged with a total of 37 felony charges
New Mexico State University (NMSU) had to deal with very serious sexual allegations and cover-up charges within its basketball team earlier this year. NMSU has had to contend with serious student problems over the last 12 months which included a student shooting and sexual assault.
In Nov 2022, ex-NMSU basketball player Mike Peake ended up shooting and kill another student in New Mexico but wasn't charged in the shooting. NMSU also had to deal with sexual assault allegations that took place within its basketball team during Aug and Nov 2022.
NMSU Must Improve Student Safety Protocols
In Feb 2023, NMSU decided to suspend its 2022-2023 college basketball season after the sexual assault allegations made it to the media and put NMSU under immense pressure. Three of their students Kim Aiken Jr., Doctor Bradley and Deshawndre Washington (pictured) were alleged to have engaged in a humbling ritual where they would pull down the pants of other players, slap their butt and touch their genitals.
Deuce Benjamin and Shak Odunewu ended up filing a lawsuit against NMSU alleging that NMSU did not do enough to protect them. They also named the three players as defendants in the lawsuit and stated that they made head coach Greg Heiar aware of the sexual assault.
Heiar allegedly told them that he would look into the sexual allegations and consider suspensions but in the end did not do anything about it. NMSU ended up sacking Heiar and settled the lawsuit with a payment of $8 million.
Earlier this week, a second lawsuit was filed against the three players, multiple ex-coaches and Mario Moccia who is the NMSU athletic director.
Defendants Facing 37 Felony Charges
A grand jury in New Mexico has now charged Kim Aiken Jr., Doctor Bradley and Deshawndre Washington with a total of 37 felony charges that include criminal sexual conduct, sexual penetration and false imprisonment.
If they are found guilty of the charges, Aiken Jr. who has 11 charges against him could face up to 24 years in prison while the other two players could get up to 27 years.