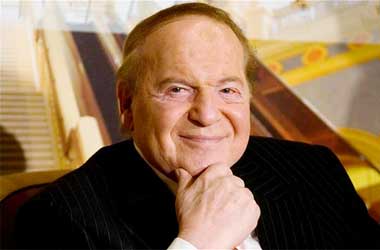 Las Vegas Sands Corp. has been the only major U.S. based gaming operator that has not ventured into the lucrative sports betting market. Once PASPA 1992 was repealed, a number of states decided to legalize sports betting.
There are currently nineteen states that have legalized betting markets up and running while another six states are in the process of launching their sports betting market. Sands Corp. is looking to finally enter the sports betting market in 2021.
The main reason Sands Corp. has not gone into sports betting was because of the stance of its former chairman and founder Sheldon Adelson. Any operator that enters the sports betting market, will focus on online sports betting as it brings in big revenues.
However, Adelson and his 'Coalition To Stop Internet Gambling' have been the biggest opponents to online gambling legalization in America. Adelson believes that there are not enough protocols in place to protect players from the harms of online gambling.
KTNV Channel 13 Las Vegas
The 87 year old billionaire is no longer leading Sands Corp. has he took an immediate leave of absence due to a reoccurrence of non-Hodgkin's lymphoma. With Adelson stepping down temporarily, the CEO post has been filled temporarily by Robert Goldstein who also stepped in for Adelson the first time when he needed treatment.
Robert Goldstein is the man driving the push to get sports betting legalized. Sources who preferred to remain anonymous said that Goldstein has held initial talks to get Sands Corp into sports betting in 2021.
Sands Corp Interested In Sports Betting
It's still too early to know whether Sands Corp is looking to offer retail and online sports betting services or develop a sports betting platform or do both. What we do know for a fact is that Sands Corp has taken a big financial hit in both America and Macau due to COVID-19.
Sands Corp. has lost millions of dollars in 2020 and is currently looking to dispose of a few properties till then they will continue to do so in 2021 till COVID-19 is brought under control. This makes it vital for Sands Corp to look at online gaming as it needs to bring in more revenues. Sands Corp does have a retail sports book at its Venetian Casino in Las Vegas but it is an outsourced operation run by Cantor Gaming.
While Goldstein is pushing for sports betting without Adelson at the helm, it is quite possible that Adelson is using this opportunity to get Goldstein to launch sports betting services with him out of the way.