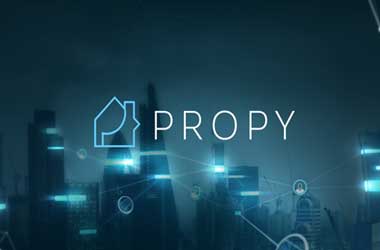 Propy, which claims to be operating the world's first international real-estate marketplace, announced the successful launch of the alpha open version of its real estate transaction tool based on block chain technology. The transaction tool facilitates buying and selling of properties in California using Bitcoin.
The Propy marketplace enables crypto millionaires to diversify investment by investing in hard assets. The facility will remarkably reduce time and minimize the risk of forgery. The project is called as the Amazon of real estate. Traditionally, to make an international real-estate purchase, individuals need to work with multiple intermediaries, including Brokers, escrow services, land registry services, as well as money transmitters. Piles of paperwork need to be compiled and signed.
Propy uses block chain technology to avoid intermediates. A real estate purchase can be completed by unlocking smart contracts through Propy's PRO token. Initially, the Propy Registry will mirror official land registry records in which transfers of real estate are recorded. Ultimately, Propy's vision is that jurisdictions will adopt the Propy Registry as their official ledger of record such that the transfer of property on the Propy Registry constitutes the legal transfer of the property and the legal registration of that transfer.
Propy
The use of block chain technology enables cross-border payments by users. Further, Propy assists in the documentation process. Users can search for properties in their native language. Additionally, the quality of air, noise pollution and several other generate facts about the locality are provided. Governments can issue title deed for properties instantly online in a secure and cost-effective manner.
Propy and the government of Ukraine recently entered into a Memorandum of Understanding, under which a property in Ukraine's capital Kiev changed hands on-chain and across borders. It is another milestone for the Ethereum network. The transaction tool discussed above enables completing a Bitcoin based real estate deal in California by following a simple nine-step process. Propy plans to introduce US dollar based transactions by next year.
Andrew Baum, Chairman of the investment committee for CBRE stated,
"It would be an enormous step forward if global real estate transactions were to be facilitated by a reliable, automated land registration and transfer system. Propy's proposed use of block chain might just offer the key that opens this door."
The company is planning to start an education program next week for local brokers in California. Additionally, Propy is also planning to start a full fledge marketing campaign to attract home buyers. The marketing plan is expected to be revealed in January 2018. Propy is inviting buyers and sellers of homes to contact them via Reddit & Telegram.