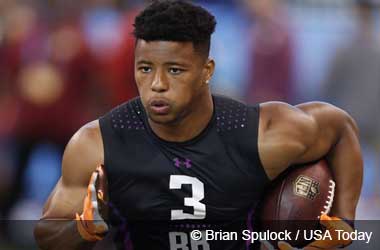 Saquon Barkley has never played an NFL game but his name has been doing the rounds for the last 12 months as the former running back from Penn State was identified as one of the most exciting young players coming through the system.
During his three seasons with Penn State University (PSU), Barkley has gone on to register a total of 3,843 years, 102 passes and 43 touchdowns. He also has 791 touches covering 5,538 yards which averages around 7 yards for each play and 145.7 yards for each game.
Those were pretty impressive numbers which made Barkley a hot prospect as a number of NFL leagues wanted to secure his services.
The New York Giants secured his services after he was the number two overall pick during the 2018 NFL Draft. The Giants signed Barkley for a whopping $31.2 million which includes $15 million being paid out immediately and a $20.76 million signing bonus. The four year contract was signed on July 22 and Barkley will now be a part of the Giant's training sessions which commence from July 25 at their East Rutherford training facility.
Hex Highlights FB
NFL Teams Willing To Pay Rookies Big Pay Checks
The NFL has seen its share of changes during the last decade and one of the biggest changes has to do with the money NFL franchises are willing to pay to rookies these days. Barkley is a prime example of this new trend as the Giants were willing to spend a massive amount to secure the services of a top rookie in order to ensure that he did not go to any other franchise and also to strengthen their team for the coming season.
Plaxico Burress who played for the Giants as a wide receiver never saw rookies get paid the kind of money that they are getting nowadays.
In a statement, Burress said
The game's changing. Players are changing. I'm happy for the guys. They go out and earn it. Nobody knows how tough it is when you're down on that field. It's good it's changing with guaranteed contracts and things of that nature. The guys are definitely earning it. You can't say that they're not
The Giants will rely heavily on wide receiver Odell Beckham Jr and Saquon Barkley to turn their fortunes around this season. Barkley will be under pressure as he has to perform to show he is paying back his franchise for the massive amount they have paid to win him over.