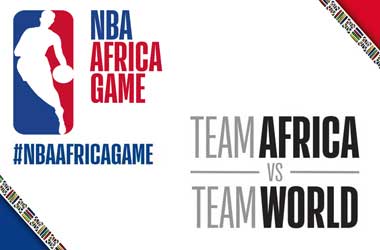 The National Basketball Association (NBA) has focused on building its brand in the African continent by hosting special NBA matches every couple of years.
The NBA is set to host a special 2018 NBA Africa Game where former and current NBA players will square off against each other in a Team World vs. Team Africa Contest.
The Team World vs. Team Africa Contest is scheduled to take place on August 4 at the Sun Arena at Time Square in Pretoria. Basketball fans from all over Africa will look to pack out the arena and those who cannot make it in person will be tuning into the game which will be broadcasted as well as live streamed by a number of popular channels and networks such as Kwesé Free Sports, ESPN and Kwese Iflix.
NBA Africa Game: Teams
Team Africa
Team Africa will be coached by Juwan Howard who serves as the assistant coach of the Miami Heat. The team has players likes Joel Embiid, Luol Deng, Evan Fournier, Al-Farouq Aminu, Timothe Luwawu-Cabarrot, Bismack Biyombo, Serge Ibaka, Cheick Diallo, Pascal Siakam and Ian Mahinmi.
Team World
Team World will be coached by Ettore Messina who serves as the assistant coach of the San Antonio Spurs. The team will comprise of Marvin Williams, Harrison Barnes, Hassan Whiteside, John Collins, Dennis Smith Jr., Danilo Gallinari, Khris Middleton, Rudy Gay and JaVale McGee.
Third Visit To Africa
The NBA has already hosted two such NBA Africa games in the past. The first one was in 2015 and the second in 2017, and both games were a great success. The African continent has produced close to 80 players for the NBA over the years and the NBA is looking to develop the game throughout the continent.
NBA
Basketball Without Borders Africa 2018
The NBA is looking to develop young talent in Africa by conducing camps known as Basketball Without Borders where NBA and WNBA legends visit and spend time with the kids to encourage and inspire them to develop their game. For many of the NBA players, this is their first visit to Africa and they have been impressed with the excitement and the reception they have received.
In a statement, Lakers All Star Luol Deng said
For these kids when they meet us, see our sense of humour, they realise we are just like them and they start believing. That's why you see more kids from BWB making it to the NBA.