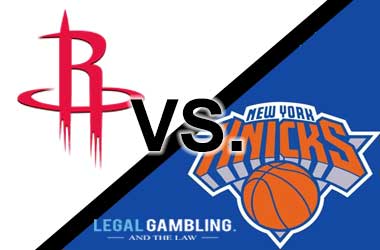 Two major markets go head to head on Wednesday night as the Rockets take on the Knicks in New York. The Rockets lead the all time series 71-70, and the Rockets have won 5 straight head to head.
The Rockets dropped their Monday matchup in Philadelphia 121-93 to the 76ers. Last Wednesday (1/16) they lost 145-142 at home to the Nets, and on Saturady (1/19) they beat the Lakers 138-134 at home.
The Knicks lost their last game Monday 127-109 to the Thunder at home. Last Sunday (1/13) they lost 108-105 to the 76ers, and last Thursday (1/17) they lost 101-100 to the Wizards in London.
The Rockets are 22-23-1 ATS this season, 8-14 ATS on the road, and 4-6 ATS in their last 10. The Knicks are 20-23-2 ATS this season, 7-11-1 ATS at home, and 5-5 ATS in their last 10.
BetOnline has the Rockets as 7 point favourites on the road with an O/U total of 227.
Houston Rockets
(26-20 overall, 9-13 on the road, 5-5 in last 10)
The Houston Rockets average 112.2 PPG, good for 13th in the league, and shoot 44.5% from the field, 35% from 3, and 77.9% from the free throw line. As a team they average 41.9 RPG, 10.7 ORPG, 21.1 APG, 14.1 Turnovers per game, 7.8 SPG, and 5.2 BPG.
Defensively, the Rockets hold teams to 110.8 PPG, 44.1 RPG, 47.6% from the field, and 33.9% from 3. The Rockets are led by do-it-all guard James Harden, who averages 35.7 PPG, 6.4 RPG, 8.3 APG and 2.0 SPG. Harden shoots 44% from the field, 37.8% from 3, and 86.3% from the free throw line. Eric Gordon supplements Harden with 16 PPG, 2.6 RPG, 2.2 APG, and 2.7 3's per game. Austin Rivers (11.7 PPG/2.8 RPG/3.6 APG), Gerald Green (9.4 PPG/2.7 RPG/0.8 SPG), P.J. Tucker (8.1 PPG/6.3 RPG/1.4 SPG), and newly acquired Kenneth Faried (13 points, 6 rebounds, 1 3 pointer made in first game) provide supporting production.
Key Injuries
G Chris Paul (hamstring) – out, C Clint Capela (thumb) – out
New York Knicks
(10-35 overall, 4-15 at home, 1-9 in last 10)
The Knicks offense ranks 23rd at 107.2 PPG, shooting 43.2% from the field, 34.5% from 3, and 77.6% from the free throw line. As a team they average 44.4 RPG, 11.3 ORPG, 19.9 APG, 13.9 TPG, 7.2 SPG, and 4.4 BPG. Defensively, they hold teams to 115.7 PPG, 48.1 RPG, 47.9% from the field, and 36.5% from 3.
Tim Hardaway Jr. paces the Knicks with 19.6 PPG, chipping in 3.3 RPG, 2.7 APG, and 0.9 SPG. Hardaway shoots 39.3% from the field, 35.2% from 3, and 85.7% from the free throw line. Emmanuel Mudiay helps out with 14.7 PPG, 3.1 RPG, 3.9 APG, and 0.8 SPG, while Enes Kanter leads them in rebounding at 10.8 RPG to go along with 14.4 PPG. Trey Burke (11.1 PPG/2.0 RPG/2.8 APG), Kevin Knox (12.3 PPG/4.2 RPG/0.5 SPG), Alonzo Trier (9.9 PPG/2.0 RPG/2.8 APG), and Noah Vonleh (8.7 PPG/8.4 RPG/0.9 BPG) provide ancillary production.
Key Injuries
F Luke Kornet (ankle) – out, F Kristaps Porzingis (knee) – out
Predictions
The Knicks are one of the worst teams in the NBA, and for good reason. They are a team of castoffs, former Summer League role players, and #3 options. They really have no identity on either side of the ball, and their lack of scoring threats, creators, and defensive playmakers shows through worst against teams like the Rockets who can hand the ball to Harden and have him go win them the game.
The Knicks are a solid rebounding team, which could help them limit the Rockets possessions as well as create extra opportunities on the offensive end due to the Rockets limitations in the paint. The Rockets have 2 capable defenders in P.J. Tucker and Gerald Green who can run with Tim Hardaway Jr. and limit his clean shot opportunities. Between James Harden and Eric Gordon, the Rockets have two shot takers capable of scoring on anyone, and the Knicks lack the on ball defense that can slow the two of them down. Harden should have another monster game and carry the Rockets to a healthy win as they wait for the return of Chris Paul.
Final Pick: Rockets (-7)